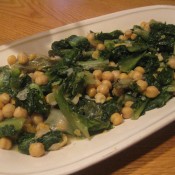 Traditional side dishes are often my favorite part of a big Italian meal. The simplicity of sauteed greens (such as swiss chard, broccoli rabe or mustard greens) are always the perfect balance to the main course. Today I am sharing with you one of my favorites, sauteed escarole with beans.
Escarole is a mild green that is often used in soups – escarole and bean soup being one of the more common Italian soups. In my version, the escarole and beans are heated separately, then combined to make a delicious, creamy side that is perfect for serving with crusty Italian bread. You can add cooked sausage, bacon or ham to this dish for additional flavor.
ESCAROLE AND BEANS
1 large head Escarole, thoroughly cleaned and chopped
2 tbspn olive oil
2 cloves garlic, minced
1 16 oz can cannellini or garbanzo beans, undrained
salt and pepper to taste
In a large skillet, heat one tbspn olive oil. Add garlic. When fragrant, add chopped escarole, tossing well until all leaves are coated. Stir for about 10 minutes, or until tender. Remove from skillet, season with salt and pepper. Place in a covered bowl and set aside.
Rinse skillet for reuse. Heat remaining tbsn olive oil, again adding garlic when oil is heated. Add the beans and their juices. Stir and simmer until a creamy sauce develops, about 10 minutes. Add escarole to the pan, toss and simmer for a few more minutes.
Serve on a platter with crusty Italian bread.