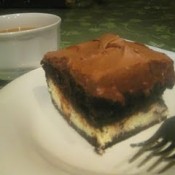 Last week I shared with you a recipe for Strata, which is an excellent idea for Easter breakfast. This week, we're going the sweet dessert route! Easter is of course known for it's rich and filling egg and cheese based pies in the Italian American household. My Mom has always been famous for her Easter cheesecakes. She would often make two or three different varieties. My personal favorite is her Italian Love Cake. Although this isn't her original recipe, it's one that is always in high demand from family and friends (the recipe is fairly easy to find online, and most versions are almost identical).
There was always something magical about this cake. Aside from the perfect, decadent combination of chocolate cake and ricotta filling, it was the assembly that mystified me. The first layer that you add to your baking pan is the cake batter, then topped with the ricotta filling. But during the baking process, the cheese actually drops to the bottom of the pan, and lifting the cake portion to the top. Magic!  And I'm sure you'll find the taste of Italian Love Cake to be magical as well.
Enjoy and Buona Pasqua!
1 (18.25 ounce) package chocolate cake mix (Mom recommends Duncan Hines cake mix)
1 2lb container part-skim ricotta cheese
3/4 cup sugar
1 teaspoon vanilla extract
4 eggs
1 (3.9 ounce) package instant chocolate pudding mix
1 cup milk
1 (12 ounce) container frozen whipped topping, thawed
Prepare cake mix as directed on box. Pour batter into 9 x 13 x 2 inch greased baking dish. Set aside. Combine ricotta cheese, sugar, vanilla, and eggs. Blend well. Spread mixture evenly over the top of the cake batter. Bake at 350 degrees F (175 degrees C) for 75 minutes if using a glass baking dish, 90 minutes if using a metal pan. Blend pudding mix and milk until thickened. Blend in whipped topping. Spread over cooled cake.