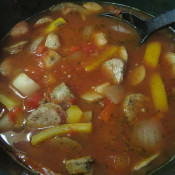 As we get ready to nestle into the crisp fall season, I start getting geared up to do some hearty, rustic seasonal cooking. Because our weekends quickly get filled with leaf clean-up, hayrides, football games and back to school activities, it's often hard to find the time needed to put together a big meal. This is when a crock pot, or a slow cooker, comes in handy.
Last weekend I put together a slow cooker version of an Italian-American favorite, the classic sausage and peppers. By simply adding some key ingredients to the crock pot for about 6 hours (I also added potatoes for extra heartiness), we were able to enjoy one of our favorite meals while still being able to take advantage of the day. This recipe will work well for a small party, game day grub, or a weekday meal.
Crock Pot Sausage, Peppers and Potatoes
1 lb. sausage (your choice of hot, sweet or gourmet stuffed – I used a chicken sausage stuffed with spinach and feta)
3 small-to-medium potatoes, cubed
3 bell peppers, seeded and sliced into strips (you can use green, red, yellow or orange, or any combination for mixed color)
1 small onion, finely chopped
2 cloves garlic, minced
2 teaspoons Italian seasoning
1 28-oz can diced tomatoes
1/2 cup water
1/4 cup red wine
Salt and Pepper to taste
Optional – 1 bouillon cube (chicken, beef or vegetable) for extra flavor
Cook the sausage by either frying on the stove top or baking in the oven, until browned. Slice the cooked sausage into 1 to 2 inch pieces. Place into the crock pot the diced tomatoes and their juices, the sausage, potatoes, peppers, onion, garlic, Italian seasoning, bouillon cube, water and wine. Any red wine that you have opened will work (although we were fortunate enough to have a bottle of home made red given to us by our good friend Jessica's dad..NICE!). Stir all of the ingredients together. You can add additional water later on if needed. Place the lid on the crock pot and heat it on the slow setting for 6 to 6-1/2 hours, until the potatoes are tender. Season with salt and pepper.
Serve over, pasta, rice, shredded spaghetti squash, or serve it with crusty bread for dipping.