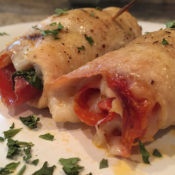 Chicken cutlets are a staple in just about every household. By adding just a bit of seasoning and a few everyday ingredients, this recipe takes chicken cutlets to a whole new level. The key to this recipe is to use thin sliced chicken cutlets. You want the cutlets to be easy to roll and fold. Instead of giving specific measurements, I am just going to share with you the basic steps that I take to make four to six roll-ups. You can adjust the filling ingredients to your liking!
Step 1
Lightly brush both sides of the cutlets with olive oil. Season both sides with a little salt, pepper and garlic powder.
Step 2
Place in single layers the filling ingredients that you choose.
Here are just a few tasty suggestions:
prosciutto, provolone and fresh basil
pepperoni and mozzarella
chopped artichoke hearts and tomatoes
chopped olive salad
sauteed mushrooms
crab meat

Step 3
Carefully roll up the cutlets, and either tie them with butcher string or secure them with a tooth pick.

Step 4
Place the roll-ups on a baking tray lined with parchment paper. Bake at 350˚ for 35-40 minutes, until chicken is done.