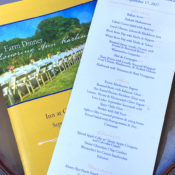 My wife Daria and I recently celebrated our 18th wedding anniversary. We don't get to dine out as often as we would like, so we always make sure to honor our anniversary by going out to a nice, romantic dinner. This year, we decided to celebrate with our daughters over a nice breakfast. However, our romantic dinner took place at a special event that we will remember and cherish for along time to come.
Les Dames d'Escoffier is a worldwide philanthropic society of professional women in the fields of food, fine beverage and hospitality. Their mission is to foster a healthier, more fair food system; recognize women who have contributed to the industry; and to mentor young women in their field. Proceeds from their events go towards their scolarship fund. There are 36 individual chapters across the United States, Canada, the United Kingdom and Mexico, the Philadelphia chapter being created in 1984.
My dear friend (and sister from a different mister!) Chef Jacquie Peccina Kelly, who is a member of the Philadelphia chapter, extended an invitation to Daria and I for a special farm dinner event honoring Ann Karlen, which was to be held at the beautiful Grace Winery, located in Glen Mills, PA. This was no doubt an opportunity that Daria and I could not pass up!
The Event
Before I get into the wonderful meal that was planned for the evening, I first must tell you about this inspiring event. Chef Jacquie, up to this point, was the only person who Daria and I knew who was involved with Les Dames. From the second that we arrived, we were surrounded by 120+ guests who were all there for the same reason. We all have a deep appreciation for locally grown and healthier prepared fresh foods, backed by a community of farmers, artisan producers, chefs, and the retail food community who all work together to offer us this healthier food system. The evening's guest of honor, Ann Karlen, is the founding executive director of Fair Food, a non-profit organization formed in 2000 to build a local food economy for the Delaware Valley region by connecting family farms to the Philadelphia marketplace. In 2003, she opened the Fair Food Farmstand, Philadelphia's first all-local food retail grocery store, in the Reading Terminal Market.
Before the award presentation, a number of friends and colleagues offered up praise and thanks to Ann for her passion and strive to help make the local food community a better place. As one person said, she was 'farm to table' before the phrase was even coined. Although I had never met Ann prior to this event, I felt an immediate bond with her, and to say that I was deeply inspired by her contributions to the culinary world would be an understatement.
The Dinner
The evening's entire menu was planned out and prepared by the Philadelphia Les Dames committee, so we knew that we were in for a meal that would be top notch. Due to early predictions of rain in the forecast, the dinner was forced to be moved into the winery's barn, instead of being set up in the vineyard as originally planned. The forecast fell through, and the sun was shining throughout the afternoon. We were allowed to wander around the vineyard with drink in hand, but the warmer than usual temperatures made the air conditioned barn setting quite comfortable!
We first entered the converted 1750's bank barn, which housed a beautifully crafted wooden bar. The bar top is fashioned from the original steps of Independence Hall. Various beverages were offered, including the winery's Chardonnay and Dragonfly Red, Three Springs Farm's Ploughman Cider, craft beer, and a new seasonal favorite of mine, Rye Peach Smash. We then made our way to the huge, open spaced back area of the barn, which was set up this evening as a banquet hall. A beautiful Hors d'Oeuvres table was set up, featuring seasonal salads, various dips, roasted vegetables, oysters, flatbreads, local cheeses, salumi and jams, again all prepared by the chefs. Normally, I could make a meal out of this course alone, but I knew that we were in store for many more fantastic dishes to come.
We were all seated at long tables that each stretched the width of half of the barn. Being that we were all there for the same purpose (good food and good wine), it was very easy to start up conversations with those who sat with us at our table. The main course was brought out family style, one scrumptious bowl being passed around after another. This also helped the overall flow of conversation and camaraderie at our table.
The menu was made up of unbelievable dishes that all worked incredible well together:
Exotic Mushroom Ragout
Roasted Beets with Balsamic Glaze
Pan Seared Pocono Rainbow Trout with Lemon, Thyme and Horseradish Chive Yogurt
Succotash with Spicy Chile Glaze
Sautéed baby potatoes with green beans
Brisket with Fall Fruit
Dessert was also served family style, and again offered up phenomenal seasonal treats:
Home made croissants
Tahini Chocolate Chip Cookies
Palmiers
Weckerley's Ice Cream Sandwiches
Spiced Apple Cake with Tartin Apple Compote and Calvados Cream (which, by the way, was out of this world).
As the evening came to a close, we exchanged contact information with our new friends and then said our goodbyes. The sun was starting to set on the vineyard, which made for a lovely, picturesque ending to a truly wonderful and romantic anniversary celebration.
We have to thank Chef Jacquie for extending this invitation to us. We really enjoyed ourselves and look forward to future Les Dames events. And congratulations once again to Ann Karlen. Your efforts and dedication to the culinary world are inspiring and encouraging!
For more information about Les Dames d'Escoffier, please click the following links:
For more information about Grace Winery, please click the following link:
To find out about Chef Jacquie's Philadelphia tasting tours, please click on the following link:
To visit the Fair Food Farmstand, please click on the following link: