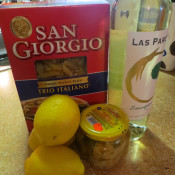 For this recipe, I'm combining chicken with two of my favorite ingredients – lemons and artichoke hearts – to make a tasty and filling baked pasta casserole, perfect for the spring season. You'll need a little bit of time to prepare this dish, as it is a multi-step recipe. For the first step, we'll sauté the artichokes and chicken in a lemon, wine and butter sauce. For the second step, we'll prepare Lidia Bastianich's lemon cream sauce recipe. We'll then combine everything and bake it for 30 minutes. This is a great dish to serve to your family and friends as a beautiful weekend afternoon meal.
Step 1: Sautéing the Chicken and Artichokes
Ingredients:
1/2 lb boneless, skinless chicken breasts, cut into 1″ to 2″ pieces
2 tbspn olive oil
2 tbspn butter
1 shallot, minced
zest plus juice of one lemon
1/4 cup white wine
6 oz jar artichoke hearts, roughly chopped
Directions:
Heat oil and butter in a large skillet over medium-high heat. When butter melts, add chicken. Sauté until chicken is browned and cooked. Remove chicken, set aside. Add shallots, cook briefly until shallots start to soften. Add wine to deglaze pan. When the liquid starts to reduce, add lemon zest and juice, stir well. Add artichoke hearts and chicken, stir well. Simmer for 10 minutes, or until liquid reduces by half. Remove from heat, set aside.
Step 2: Preparing the Lemon Cream Sauce
Recipe courtesy of Lidia Bastianich
Ingredients:
2 teaspoons kosher salt
3 tablespoons butter
zest plus juice of 2 lemons
1 cup dry white wine
1 cup heavy cream
Directions:
Drop the butter into the large skillet, and set it over medium heat. As the butter melts, scatter in the grated lemon zest; stir it around until sizzling. Pour in the white wine and lemon juice, add the salt, stir, and bring the liquids to a bubbling simmer. Cover the skillet, and let cook for a couple of minutes.
Uncover the pan, and slowly pour in the cream, whisking it steadily into the simmering wine and lemon juice. Cook, stirring occasionally, until the liquids reduce to a saucy consistency you like, 2 or 3 minutes more.
Note: as you are making the lemon cream sauce, you will also start to prepare a pot of boiling water to make 1 lb of pasta (zit, rigatoni or small shells will work well with this dish). As the sauce simmers, start to boil the pasta.
Step 3: Combining the Ingredients
When the pasta is done boiling, you will combine the pasta with the chicken and artichoke mixture (and its reduced liquid) in a 13″x9″ baking dish. Carefully pour the lemon cream sauce over the pasta mixture and stir it until the pasta, chicken and artichokes are all covered with the sauce. Loosely cover the pan with aluminum foil. Bake in a 350˚ over for 30 minutes. Remove from oven, stir, serve and enjoy.