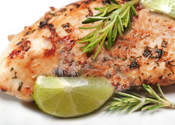 This past weekend, we had our annual end-of-summer neighborhood grill fest. Since chicken is always a crowd pleaser, and coconut and lime are two of my favorite summer flavors, I did some research and put together my own variation of grilled coconut lime chicken. Although I did not win the coveted Friendship Road 'Golden Spatula' for favorite dish, my entry seemed to be a big hit with everyone…so I'll take that as a win any day! This is definitely a tasty dish that could be served up any time of the year, so I've also included baking instructions for those who do not like to venture out into the cooler weather to fire up their grill.
6 chicken breasts, cut in half length-wise (makes a total of 12 pieces)
1 13.5 oz can coconut milk
1/4 cup olive oil
3 cloves minced garlic
juice of 4 limes, plus zest of two limes
1/4 tspn ground ginger
1/2 tspn light brown sugar
2 tspn salt
1/4 tspn black pepper
1/4 cup shredded coconut
In a large mixing bowl, combine the coconut milk, olive oil, garlic, lime juice and zest, ginger, brown sugar, salt and pepper. Whisk until well combined. If grilling, reserve 1/3 cup of the marinade for later use.
Cut about 4 to 5 small slits into each chicken breast. Place the chicken breasts into a plastic baggie, then pour the remaining marinade mixture over the chicken. Squeeze all air out of the baggie, then tightly tie the bag closed. Let the chicken marinate in the refrigerator for 2-6 hours.
Grilling
Heat your grill to medium-high, evenly coating your grill grates with cooking spray. Remove the chicken breasts from the marinade and place on the grill. Discard the old marinade. Pour a small portion of the reserved marinade into a bowl. Grill for approximately 15-20 minutes, flipping occasionally, until the chicken is browned and evenly cooked. Baste the chicken occasionally with the small portion of the marinade, discarding what is left of the small portion of marinade when grilling is done.
When the chicken is done, remove it from the grill and place it in a baking dish. Pour the remaining marinade evenly over the chicken, and place the baking dish into your oven set to warm for 10 minutes. This will allow the remaining marinade to slightly thicken into a sauce.
While the chicken is in the oven, place the shredded coconut into a large pan. Toast over medium heat for 5-7 minutes, or until the coconut starts to brown.  Remove chicken from the oven, sprinkle with toasted coconut. You can also sprinkle with chives for extra color and flavor!
Baking
Preheat oven to 375˚. Remove marinated chicken from refrigerator, place in a baking dish. Pour marinade over chicken, making sure that all pieces are well covered (there is no need to reserve any marinade when baking). Bake for 40-45 minutes, or until chicken is completely cooked, flipping once half-way through. Remove from oven, top with toasted coconut (see instructions above for toasting coconut).