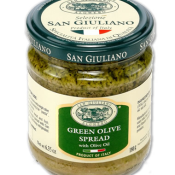 Yesterday I made an impulse purchase while shopping at my local Italian specialty shop. I'm a big fan of Spanish green olives, whether pitted or stuffed with sharp provolone or creamy gorgonzola cheese. When I saw the jar of San Giuliano Green Olive Spread, I was quickly sold. This is basically a green olive tapenade spread, which is traditional made with pureed olives, capers, anchovies and olive oil, and used as a topping on hors d'oeuvres, breads or meats. This particular brand had simple ingredients of olives, sea salt and olive oil, but still made for a nice jarred condiment to keep on hand.
I had planned to bake some salmon for dinner, and occasionally stuff it with pesto (which is a popular recipe on this blog, by the way…you can find it y clicking here). Since I had no pesto on hand, this was a perfect opportunity to put the olive spread to good use. I did a basic preparation of the salmon (olive oil, salt and pepper, lemon juice and some fresh thyme that I had on hand), and placed it in a high-heat oven. About half-way through baking, I added a thin coating of the olive spread to the salmon and let it bake through. It was a great addition to the salmon, adding a nice, zesty tang to the lightly seasoned fish. I also made a warm spinach salad with cannellini beans and grape tomatoes, which was a beautiful complement to the salmon. You can find recipes for both the salmon and the warm spinach salad below.
I have seen other brand jars of olive spread on the market, and although I haven't tried any of them, I'm sure they would all work well with this dish or as a condiment spread. If you're feeling a bit adventurous, search out a tapenade spread on line and give it a go!
Green Olive Crusted Salmon
2 salmon filets
olive oil
sea salt and black pepper
juice of 1/2 lemon
1-2 tbspns green olive spread (to your liking)
Preheat oven to 450˚. Lightly drizzle salmon with olive oil, season lightly with sea salt and black pepper. Squirt juice of 1/2 lemon on salmon. Place salmon, skin side down, on a lightly sprayed baking sheet or a non-stick pan. Bake 5-7 minutes, or until salmon starts to turn a light pink. Remove from oven, spread a light coating of olive spread on top of salmon, return to oven. Bake another 10-12 minutes, or until salmon is completely cooked through and flaky.
Warm Spinach Salad with Cannellini Beans and Grape Tomatoes
1/2 bag fresh spinach leaves
1 tbspn olive oil
1 clove garlic, minced
juice plus zest of one lemon
1/2 cup cannellini beans
handful of grape tomatoes
salt and pepper
Pre-heat nonstick skillet over medium heat. Add olive oil and garlic, heat until garlic starts to become fragrant. Add spinach leaves, stir to coat. Add juice and zest of lemon, stir to coat. Add beans and tomatoes, continue to stir. Once spinach begins to wilt, remove from heat. Season with salt and pepper to taste.