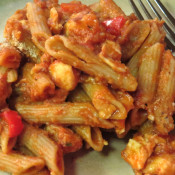 Family recipes, whether followed to the tee or slightly altered, are a key ingredient to keeping family traditions alive. They are a major inspiration for many big weekend and holidays meals, and the backbone to my food blog. For this recipe, I'm taking one of my Grandmother's signature dishes, Chicken Cacciatore (which you can find on my blog by clicking here), and am slightly adjusting some of the measurements to make it into a casserole. Although the presentation and serving size are just a bit different from the original – I made adjustments to better serve a large crowd – the spirit and essence of Grandmom's dish is still the main highlight. There's nothing wrong with adding a new twist to a classic family dish, and I'm sure that my Grandmom would approve of this recipe!
Chicken Cacciatore Casserole
4 chicken breasts, cut into 1″ cubes, lightly dusted with flour
2 cloves garlic, minced
1/2 cup red wine vinegar
1 tspn rosemary
1 29-oz can tomato sauce (you'll start off with about 2/3 of the can)
1 large red or green bell pepper (or two small), cut into small pieces
1 cup water
2 tblspn vegetable oil
pinch sugar
salt & pepper to taste
1lb cooked pasta (ziti, mini shells, or whatever you prefer!)
breadcrumbs
*although I don't prefer them, you can also add mushrooms to this dish
Step 1: The Sauce
In a large frying pan, brown chicken and garlic in oil until chicken is golden brown. Add vinegar and 1/2 cup water. Simmer until liquid evaporates. Add rosemary, about 2/3 of the tomato sauce, remaining water, sugar, salt and pepper. Add peppers, stir together, cover slightly, let cook for 30 minutes.
Note – I'm suggesting that you start off with 2/3 of the tomato sauce. A full can may be too much to add to the pan. You can add in the remaining 1/3 of tomato sauce when stirring in the pasta. The added sauce will pick up the flavors while baking.
Step 2: The Pasta
Preheat oven to 350˚. While the sauce is simmering, cook the pasta until al dente. When pasta is done, mix it together with the sauce in a 13″x9″ baking dish. If the pasta doesn't get fully coated, add the remaining 1/3 can of sauce, stir together. Sprinkle the top with breadcrumbs. Cover with aluminum foil, place in oven. Bake for 25-30 minutes, until slightly bubbling and hot.
Serve and enjoy!