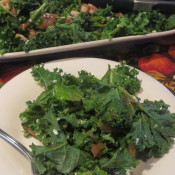 If you're a follower of healthy food trends, I'm sure you've come across quite a few recipes that use kale. If you are not familiar with kale, it is one of the latest and greatest super foods, loaded with vitamins, minerals and nutrients. Because it has risk-lowering benefits for various forms of cancer, and also has cholesterol-lowering, anti-inflammatory, antioxidant and cardiovascular benefits, kale is being enjoyed not only as an edible green, but also as an ingredient in protein shakes and body-cleansing juices. I've only recently been introduced to kale, served by my brother and his wife as a salad mixed with quinoa, and have since been inspired to try out my own version of a mixed kale salad.
Because kale has a very thick and firm texture, it is often recommended to cook it before serving, to help soften it a bit for easier digestion. Many health food sites recommend steaming it for 5 minutes, for maximum nutrition and flavor. You can also sauté it as you would spinach or other greens. You can, of course, serve it raw, as I do in the recipe that follows. To help soften the leaves and make them easier to digest as a raw salad, you want to thoroughly wash the leaves in warm to hot water for at least 5 minutes, making sure to rub away any grit or dirt. You then want to rinse the leaves again in cold water. This method is called massaging. Remove any thick pieces from the kale, then shred or chop the remaining leaves. You can then add your additional ingredients, then toss with a salad dressing.
My mixed kale salad included the following ingredients. You can add whatever amount you prefer:
• white cannellini beans;
• grape tomatoes;
• crumbled gorgonzola cheese;
• fresh bacon bits; and
• home made balsamic bacon vinaigrette dressing (recipe below).
Obviously, the bacon vinaigrette may not be the first choice for a healthy salad, but I was looking to make it a bit more hearty and flavorful. You can substitute it with a lighter dressing, such as a fresh citrus vinaigrette, if you wish.
For more ideas on how to prepare and serve kale, check out the following links:
whfoods.com
cookinglight.com
Balsamic Bacon Vinaigrette Dressing
(Courtesy of finecooking.com)
2 slices bacon, cut into 1/4-inch dice
1 small shallot, minced
1-1/2 Tbs. balsamic vinegar
1 Tbs. fresh lemon juice
1/4 tsp. Dijon mustard
3 Tbs. extra-virgin olive oil
Kosher salt and freshly ground black pepper
In a small (1-quart) saucepan over medium heat, cook the bacon, stirring occasionally, until crisp and golden, about 5 minutes. With a slotted spoon, transfer the bacon to a dish lined with paper towels, leaving the bacon fat in the pan. Add the shallot to the bacon fat and cook, stirring occasionally, until softened, 1 to 2 minutes. Add 1 Tbs. of the vinegar and scrape the bottom of the pan with a spoon to dissolve the browned bits stuck to the pan bottom. Off the heat, stir in the remaining 1/2 Tbs. vinegar, the lemon juice, and the mustard. Gradually whisk in the olive oil (don't worry if the sauce doesn't emulsify). Season with 1/4 tsp. salt and 1/8 tsp. pepper, or to taste.