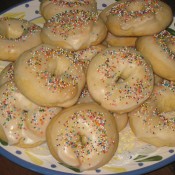 Earlier this week, a good friend of mine had asked me for a recipe for Easter cookies that her Mom would make. I knew exactly what kind of cookies they were based on her description, but had no recipe for them. I reached out to Emma, my guest blogger and keeper of many traditional Italian baking secrets. Sure enough, Emma also knew exactly what I was looking for, and she had the recipe on hand! Thanks, Emma for again taking the time to put together this tremendous cookie recipe. I hope you all enjoy!
TARALLI DOLCI di PASQUA (EASTER RING COOKIES)
By Emma Caperelli Loerky 
In keeping with Dominic's traditional Italian Easter food theme, I have decided to share a recipe that is similar to the one my mom always makes during the Easter season. The recipe comes from one of my favorite cookie cookbooks, Cookies Unlimited, by Nick Malgieri. It is a  very easy to make cookie called Easter Ring Cookies or Taralli Dolci di Pasqua. Fancy tools are not required to make them because the dough is mixed by hand, cut into 16 pieces (or, if you prefer smaller cookies, you can divide the dough into up to as many as 40 pieces), rolled between your hands to form a rope, at which point the ends are pinched together to form a circle. After baking and cooling, the cookies are then dipped into a glaze and sprinkled with multicolored nonpareils.
This is a mildly sweet cookie and is meant to be eaten with a cup of coffee or tea (or, as my son prefers to eat them, with a nice, cold glass of milk). These cookies stand up to dunking well, and, in my opinion, that is how they are best eaten.
A few things to make note of when making this cookie:
If you divide the dough into smaller pieces, cooking time will most likely be cut in half. In my oven, I found that the cookies were finished after about 25 minutes, so be sure to check the cookies often during the last 5 – 10 minutes of baking time. And, as with all cookies, halfway through baking I switched the baking sheets from top to bottom and also rotated the pans to ensure even baking. The cookies are done once they turn a light golden brown color.
Also, the icing sets VERY quickly, so make sure you have your nonpareils ready because you will need to sprinkle each individual cookie immediately after dipping it in the icing or the nonpareils will not stick. Don't say I didn't warn you. And don't skimp on the icing, it brings a lot of the sweetness to the cookie. I like to dunk the cookie in the glaze a few times just to make sure the cookie is sufficiently iced.
Which brings me to my next tip – I usually have just enough icing for my cookies without any leftovers to spare. It could be because of my thoroughly dunking each cookie in the glaze several times, but you may want to double it just to be safe. And because the glaze sets so quickly, you will most definitely need to reheat it in between icing the cookies. I found it easier to keep it warm on low heat over the stove, but, should you choose to do this, be careful not to let it burn, or to get it on your skin. I learned the hard way that the icing can get very hot.
Lastly, these cookies spread quite a bit during baking so you don't want to overcrowd them on the cookie sheet. Depending on the size of your pan, I recommend no more than 6 cookies per cookie sheet for the large cookies. If you choose to make your cookies smaller, leave at least 2 inches between each cookie to allow room for them to spread.
Enjoy and Happy Easter!
Easter Ring Cookies
From Cookies Unlimited by Nick Malgieri
Cookie Dough Ingredients:
5 1/2 cups all-purpose flour
1 1/2 tablespoons baking powder
pinch of salt
6 room temperature eggs
1 cup granulated sugar
12 tablespoons (1 1/2 sticks) unsalted butter, melted
1 1/2 tablespoons vanilla extract
Icing Ingredients:
3 cups confectioners' sugar
4 tablespoons water
1 tablespoon lemon juice
1 teaspoon vanilla extract
Multicolored nonpareils
Instructions 
For the dough:
Preheat oven to 350 degrees.
In a medium bowl, whisk together flour, salt and baking powder. Break eggs into a large bowl and whisk until broken. Whisk in the sugar in a stream followed by the melted butter then the vanilla, whisking smooth after the addition of each ingredient. Using a rubber spatula, fold the flour mixture into the wet ingredients. Turn the dough onto a lightly floured surface and knead lightly.  Divide the dough into 16 equal pieces (or up to 40 if you prefer smaller cookies). Using your palms, roll each piece of dough into an 8 inch rope. Pinch the ends of the rope together to form a circle. Place the dough on parchment lined cookie sheets at least 2 inches apart. Bake for about 30 minutes, or until puffed and golden, rotating the pans about halfway through baking. Transfer cookies to a wire rack and cool completely before glazing.
For the glaze:
Combine all icing ingredients in a saucepan and heat on low until the mixture is lukewarm, stirring often. Hold one of the cooled cookies by the bottom and dip the top of the cookie into the glaze, letting the excess icing drip back into the pan. Immediately sprinkle with the nonpareils, and place on a wire rack to let the icing set.