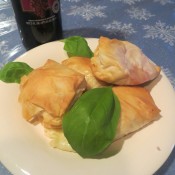 If you're a fan of tomatoes, it's highly unlikely that you enjoy eating them this time of year. Like a good friend of mine said on one of her Facebook posts, "winter tomatoes are pretty with no personality". The response posted by another friend, saying that "they have the personality of Ted Baxter" still makes me laugh. But just because we are not in prime time tomato season does not mean that you cannot enjoy a store-bought tomato that is jazzed up with a little extra flavor when added to the right dish.
One of my favorite Italian dishes that uses tomatoes is the classic Capri Salad. A simple combination of tomato, fresh mozzarella and basil, the Capri is the perfect marriage of taste and texture. Whether served as a traditional salad drizzled with aged balsamic, or served appetizer-style on a fancy toothpick, it may be one of the most refreshing combinations that I like to enjoy throughout the year.
For today's post, I'm adding a bit more depth and texture by incorporating a phyllo dough wrap to make an amazingly simple and tasty appetizer!
Capri Phyllo Squares
4 roma tomatoes, sliced (you'll need 12 slices in all)
12 slices fresh mozzarella cheese
(tomato and cheese slices should each be about 1/2″ or so thick)
12 pieces fresh basil
1 packet of frozen phyllo dough, defrosted
(one packet should give you 18 sheets phyllo dough. You will then cut the sheets in half, leaving a total of 36 sheets)
melted butter for brushing
olive oil
salt and pepper for seasoning
balsamic vinegar
Turn oven on to 350˚. Place tomato slices on a baking tray lined with parchment paper. Lightly drizzle with olive oil and season with salt and pepper. Bake tomatoes in the oven for 7 minutes to soften a bit. Remove tomatoes from oven, leaving oven on.
To assemble the wraps, you will need three sheets of phyllo, stacked. Lightly brush one side of the stacked phyllo with butter. Place the butter brushed side down on a new baking tray lined with parchment paper. Place on the phyllo one slice of tomato, one slice of cheese and one basil leaf. Gently fold all four corners of the phyllo to cover the tomato, cheese and basil. Flip the square so the folded side is face down on the tray. Continue these steps until you have 12 folded phyllo squares spread out evenly on the tray. Place in oven for 10 minutes. Remove from oven, carefully remove squares from tray. Plate and serve immediately. For additional taste, add a very light drizzle of balsamic vinegar to the squares.