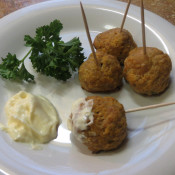 I realize that this post is a day past the Superbowl snack food deadline, but if the game could be delayed for a black-out, this recipe surely could be delayed until I was able to taste it and decide that it was worth sharing. Now that I've had the chance to try them, I have no problem saying that they are a phenomenal snack food to serve up for any game or party. Inspired by Rachael Ray's recipe, this dish  has all of the tangy flavor and heat of the traditional buffalo wing. Unlike Rachael Ray's alternate buffalo chicken meatball recipe, where the meatballs are served in a hot sauce, this recipe actually incorporates the hot sauce into the meatball mixture. The flavor of the chicken and the sauce are blended perfectly, and there is no messy eating factor to it. Served up with toothpicks and a side of bleu cheese or ranch dip, there's no losing with this recipe!
Buffalo Chicken Meatballs
Inspired by Rachael Ray's Buffalo Chicken Meatball recipe
1/3 cup hot sauce (I prefer Frank's)
4 tbspn butter
1 lb ground chicken (I used the 85% lean version)
1 egg
3/4 cups breadcrumbs
1 tspn salt
Heat butter and hot sauce in a sauce pan over medium heat until butter is melted and is blended with the sauce. Remove from heat and let cool for about 10-15 minutes.
Combine ground chicken, egg, breadcrumbs, salt and hot sauce; mix well. Roll into small, 3/4 inch meatballs. Place on a sprayed 9″x13″ baking dish. Bake at 450˚ for about 15-20 minutes, or until meatballs are firm.
Let cool for 5 minutes, serve and enjoy!