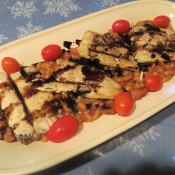 After getting through yet another Thanksgiving weekend filled with way too much food and celebration (what other kind of holiday weekend is there, really?) I decided yesterday to switch gears completely and go with a healthy (ok, healthier) dinner. One of the meals that I enjoyed a few weeks back while on vacation in Disney World was broiled rainbow trout served over a mixture of white beans, arugula and bacon. It was definitely on my 'to do' list to recreate this dish, and yesterday was the perfect opportunity.
Instead of using bacon, which is always paired nicely with rainbow trout, I opted for one of my favorite Italian go-to accent ingredients…pancetta! I also wanted to substitute a more hearty green for the arugula, and went with a nice side of broccoli rabe. You can also use a more leafy green, such as sauteed swiss chard or escarole and incorporate it into the bean mixture. Because broccoli rabe is more of a chunky green, it works better as a side dish in this instance.
Assembling this dish was fairly easy: first sauteing the pancetta and beans in a skillet, then seasoning and broiling the trout. Plating this dish rustic style is the best way to serve it – simply place the broiled trout filets over the bean mixture, and drizzle with a balsamic reduction. The rustic presentation will make for a nice dish to serve this holiday season at a dinner party…or better yet, as part of your Feast of the 7 Fishes.
Broiled Rainbow Trout with Cannellini Beans and Pancetta
1 15 oz can cannellini beans
4 oz (or two 1/4″ thick slices) pancetta, sliced into small cubes
1/4 cup chopped onion
1 cup chicken or vegetable broth (your choice)
2 filets rainbow trout
olive oil
salt and pepper
1 cup balsamic vinegar
Step 1: Prepare the Beans
In a large skillet over medium heat, add 2 tbspns olive oil. Add the onion, stir and cook until translucent. Add the pancetta and stir together. Cook over medium heat for about 8-10 minutes, or until pancetta becomes slightly crisp. Add a bit of the broth as needed to keep the pancetta from sticking to the pan. Drain the beans, then add to the pancetta. Stir and cook for about 3-5 minutes until beans are warmed, again adding more broth as needed to keep from sticking to the pan. Remove from heat, cover to keep warm. You can also add sauteed greens to the mixture, such as swiss chard or escarole.
Step 2: Prepare the Rainbow Trout
Turn your broiler to 500˚, placing the cooking rack closest to the top. Lightly oil the filets on both the meat and skin side, season with salt and pepper. Cover a baking dish with aluminum foil and lightly oil. Place the filets on the dish, skin-side down. Broil for 4-5 minutes, or until the trout starts to flake. Check it often to make sure it does not burn. Carefully remove from broiler. The skin should peel off easily at this point (you can also remove the skin as you serve the fish).
Step 3: Plating the Meal
Using a large serving dish, spread out the bean mixture evenly. Place the filets on top of the beans. You can break the filets into smaller pieces for easier serving. Drizzle with a balsamic reduction*. Serve with a nice, crisp white wine.
*Balsamic Reduction
To reduce balsamic vinegar simply means to cook it in a skillet or pan until it starts to thicken. Because it reduces, you want to use about 4 times as much as you will need for drizzling. For this recipe, you will use 1 cup balsamic. Pour the balsamic into a skillet over medium-high heat. Bring to a boil, then lower the heat to a simmer until it starts to thicken up (about 3-5 minutes total). It will continue to thicken up after you remove the pan from the heat, so be sure to remove it from the heat while it's still a just a bit thinner than you prefer. Drizzle over the fish.
And speaking of Disney….
I finally got to personally meet and spend some quality time with my favorite celebrity chef!