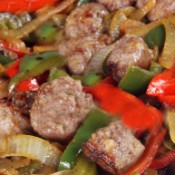 Of all the different dishes that I've made over the years, it's the the traditional, simple comfort foods that I still enjoy making the most. Italian soul food – as my good friend Lorraine Ranalli fondly calls it – has been the staple to many Italian-American households for generations. Hearty dishes like pasta and peas, potato and eggs, peppers and eggs, [fill in the blank] and eggs, giambotta…they all bring a smile to my face and a craving to my belly.
This week, I'm sharing a recipe for one of the most famous and versatile Italian comfort foods, Sausage and Peppers. Traditionally, this is a dish that is cooked on the stove top in a frying pan. Although Italian sweet or hot sausage are the most common sausage used, any kind of sausage that you prefer will work well. One of my favorites to use is a chicken sausage  from Tori's butcher shop. The BEST! Just fry up the sausage links (whole or sliced), add some chopped onions and peppers to the mix halfway through cooking, and voila, peppers and sausage.
I'm gonna put a slightly different spin on this classic dish by baking it in the oven. I prefer the baking method because it's less oil (pork sausage will create some very tasty juices in the oven), and it frees up some time for you. Because you want the sausage cooked throughout (no pink inside), you're looking at a good hour of baking in the oven, especially if you're using a pork sausage. You're also combining all ingredients at once, so all of the flavors marry together and there is no stirring or mixing needed.
You're going to have a decent amount of juice in the baking dish once it's done, and you have a few options on what to do with the juices:
• you can serve the sausage and peppers it in its juices;
• you can drain or extract the juice with a baster;
• you can let the dish bake uncovered for a few extra minutes to allow it to dry out a bit;
• or as I like to do, you can add some Italian seasoning and a few tablespoons of sauce/gravy, mix it in and let it heat for a few minutes.
Once done, you can serve it as a side dish, as a topping on pasta, or my personal favorite…..on a crispy Italian roll with provolone cheese and greens.
Whichever method you prefer, it'll be a guaranteed delicious and enjoyable meal.
BAKED SAUSAGE AND PEPPERS
1lb sausage, cut into pieces
4 bell peppers (red and green work best, you can mix them up)
1 large white onion, chopped
(optional ingredients)
1 tbspn Italian seasoning
2-3 tbspn red sauce/gravy
Preheat oven to 400˚. Place sausage, peppers and onions in a baking dish, mix, cover with aluminum foil. Bake for 60-65 minutes, until sausage is completely cooked. You can serve in its juices, drain the juices, or add the optional ingredients and allow to cook for another 5-10 minutes.
Serve as a side dish, on top of pasta or in a crispy Italian roll topped with provolone cheese and greens.