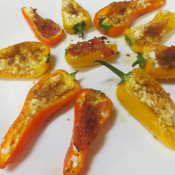 When putting together this recipe, I used two of the most popular stuffed pepper appetizers – cherry pepper shooters and jalapeno poppers – as my influence. Cherry pepper shooters, which are cherry peppers stuffed with sharp provolone and prosciutto and soaked in olive oil, are found in many delis and Italian specialty shops. They're just as much a part of my family's weekend meals nowadays as a crusty loaf of Italian bread and a nice bowl of pasta and meatballs. Jalapeno poppers, which are like the wild and crazy cousin to the more sophisticated shooter, are breaded and fried jalapeno peppers stuffed with either cream cheese or cheddar cheese, and are often staples on the appetizer menu at bars, restaurants and fast food joints.
My version is served up warm and breadcrumbs are involved, as is prosciutto (which you can leave out if you wish). I chose to use mini sweet peppers, which you can find bagged in the produce section of your grocery store. The sweet peppers come in multiple colors (green, red, yellow and orange), which make for a nice presentation. You can use jalapenos if you're looking for more heat. Instead of using a cheese that turns all gooey and greasy, I used a tomato-basil feta, which added a slight creamy texture and tangy taste that complimented the pepper. I also opted for baking instead of frying, which of course is a healthier option. Come summer time, you can bet that I'll be grilling these up on the open flames!
Baked Pepper Shooters
1 12-oz package mini sweet peppers (you can substitute jalapenos for more heat)
1 6-oz container crumbled feta cheese (plain or seasoned, your choice)
4 slices of prosciutto or ham, torn into small pieces
olive oil
breadcrumbs
Preheat oven to 350˚. Slice the peppers length-wise, remove seeds (there won't be many seeds in the mini sweets). Stuff the peppers with the crumbled feta, then top with a piece of prosciutto or ham. Lightly drizzle the peppers with olive oil, then add a light dusting of breadcrumbs on top. Place the peppers on a sprayed baking sheet, bake for 15 minutes.
Remove from oven, plate and serve immediately.