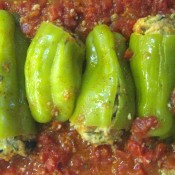 One of the biggest thrills that comes with writing this blog is being able to share some of my family's recipes. For this post I am very honored to share with you a stuffed pepper recipe inspired by my Aunt Tina. I use the word 'inspired' because, like most Italian family recipes, exact measurements were not specific. This, of course, is the beauty and charm of family recipes. Like one of life's lessons, you are given just enough instruction and guidance to get started, allowing you to discover and adjust the end results on your own terms. And after a couple of attempts and a few adjustments here and there (the more seasoning, the better), I've got to say that this stuffed pepper recipe may be one of my all time favorites!
Another trait that comes with Italian cooking is that, no matter how hard you try, there's always someone in the family who can cook circles around you. I am fortunate to have a few people in my family who are amazing in the kitchen, and my Aunt Tina is definitely one of them. Anytime my parents would talk about one of her recipes, it is always accompanied with  "my God, it was so good!" or "ohh, you should taste how Aunt Tina makes it." WIth that said, I'm sure that my attempt at this pepper recipe doesn't come close to how Aunt Tina would make them. But I am definitely sure that you will like them nonetheless. Just be sure to use fresh ingredients, and don't hold back on the seasoning…and you'll be good to go!
Thank you Aunt Tina for sharing!
AUNT TINA'S STUFFED PEPPERS
Measurements were approximated, adjust taste to your liking!
Ingredients:
6-8 cubanelle (Italian frying) peppers
stuffing mixture:
2 cups cubed bread stuffing
4 eggs
1/4 cup grated cheese
1 tbson parsley
salt & pepper to taste
1 tspn garlic powder
1 tbspn fresh basil (plus another 1 tspn for sauce)
you can also add chopped olives, mushrooms, and provolone or blue cheese…whatever your preference is.
1tbspn chopped garlic
cut up plum tomatoes (I used a 12.5oz can of diced tomatoes)
Directions:
Cut off top of peppers, clean out. Mix all stuffing ingredients together, stuff into peppers.
Take a large skillet coated with olive oil, add chopped garlic, let brown. Add tomatoes and  additional fresh basil.
Add peppers to skillet, let cook on medium to low heat for about 20 minutes. Lower heat, put lid on and let cook another 25-30 minutes.
You can add some water, chicken broth and some white wine for additional flavor. Season to taste with salt and black pepper.
*Because this is a meatless stuffed pepper, it is also a great dish to serve during the Lenten season!