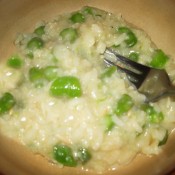 The cold winter air is finally settling in, which means it's the perfect time to enjoy a hearty, stick-to-your-ribs kind of meal. Soups, stews and chili always make for a great comfort food this time of year. But one of my favorite dishes to make during the winter months is risotto. Accented with anything from herbs and wine, to fish and vegetables, a creamy bowl of risotto is as much of a treat as it is a meal.
Grant it, making risotto successfully can be a bit intimidating to some. While you are only looking at about a half an hour or so of cooking, it's non-stop dedication and focus that makes for the perfect consistency. Once you get past the constant 'ladle/stir/ladle/stir' rhythm, it's well worth the effort.
This week I'm sharing with you two simple ingredients that will raise a standard risotto dish to a whole new, tasty level. By simply adding chopped asparagus and one can of lump crab meat,  you will have a risotto dish that you will not forget.
ASPARAGUS CRAB RISOTTO
Ingredients
1lb fresh asparagus
3 tbspn plus 1 tspn butter
1/2 cup shallots, chopped
1 cup uncooked arborio rice
1/2 cup white wine (Chardonnay works well)
3-1/2 cups broth or stock (your preference of chicken or vegetable)
1/2 cup grated parmesan cheese
1 small can lump crabmeat
salt and pepper to taste
Step 1: Prepare Asparagus
In a large sauce pan, bring a quart of water to a boil. Remove about 1-inch off of the tough end of the asparagus spear.
Place the asparagus into the boiling water, blanche for 2-3 minutes.
Remove asparagus from water and immediately place into a bowl of ice water to shock it (meaning to immediately stop the cooking process, yet keeping the vibrant green color).
Remove asparagus from ice water, pat dry, cut into 1-inch pieces, set aside.
Step 2: Prepare Risotto
The object of preparing risotto is to create a creamy texture by ladling simmering broth/stock over the rice, 1/2 cup at a time, stirring until absorbed, then repeating the ladling/stirring process until you run out of broth.
In a medium sauce pan, bring broth/stock to a simmer (not a boil).
In a large sauce pan, heat 3 tbspn butter over medium heat.
Add chopped shallots, cook until translucent, about 1 minute. Add rice, toss until well coated.
Add the wine, stirring to allow rice to get fully coated. Once wine is absorbed, start to ladle in the broth, 1/2 cup at a time. Stir the rice constantly to avoid sticking. Once broth is absorbed, add another 1/2 cup of broth. Continue to add broth in 1/2 cup increments once absorbed, and continue to stir rice. This will take a total of about 15-20 minutes.
Once all the broth/stock is added and stirred, remove pot from heat. Add the remaining tspn of butter, grated parmesan cheese, chopped asparagus and lump crabmeat. Gently stir, season with salt and pepper to taste. Serve immediately.