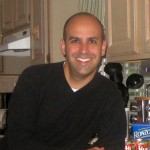 I was born and raised in South Philadelphia, now living in the Philly 'burbs of Drexel Hill. I enjoy sharing traditional (and personally updated) Italian American recipes and the family stories that go along with them.
Although I am not a professional chef, nor do I have any formal training or professional experience, I've always had a passion for cooking. My skills are very old school. It's not often that I deal with exact measurements. This is the reason why I cook and my wife bakes. I grew up with "a pinch of this," "some of that," "a little more over there!!!" It's a skill that most Italians and Italian-Americans pride ourselves on. I will, however, do my best to give you the most accurate measurements possible.
Are all of the recipes original? Hardly. Are they award winning? Possibly. Are they worth sharing? Absolutely! Many of the recipes have been passed on from others. With just a few twists and turns, I've turned them into my own little children. I will be sure to acknowledge where the original recipes came from as best I could remember. I hope you enjoy these recipes, and I encourage you to twist and turn them into your own little children as well!
In addition to sharing my own recipes and stories, I am also involved in food blog collaborations with Una Mamma Italiana. You can find our collaborations on both this web site and Una Mamma's blog. You can also hear my contributions on Lorraine Ranalli's Cucina Chatter radio program. I hope you enjoy your visit to Cucina Domenico!