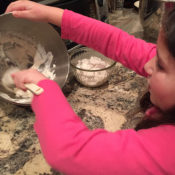 Sundays are always a productive day for me to spend in the kitchen. Whether it's spent stirring a gurgling pot of meatballs and sausage in red gravy while listening to Sinatra croon in the background, or preparing a handful of meals for the upcoming week, it's time that I look forward to (and start mapping out with a full shopping list) about 3 or 4 days prior. Now that we have settled into the cold winter months – when we are often stuck inside, trying to find activities that don't involve a cell phone or other electronic devices – it's the perfect opportunity to get the kids involved with preparing the family meals. I've always found it beneficial to get my kids involved with cooking for a number or reasons. Not only are you spending quality time with the kids, you are also teaching them life skills and encouraging their creativity. I have also found that kids are more willing to sample different types of foods if they had a hand in creating it. If one of our daughters helped stir a pot of soup when they were younger, it became their soup. Naturally, they're going to eat what is theirs. So you see, it's a win-win situation! Below is a recap of the two dishes that I got to make this past Sunday with our daughter, Ava.
Home-made Gnocchi
Home-made pasta is always a fun meal to make with kids. You get to use your hands to mix and form a huge dough ball, then roll it through a hand-cranked machine or press it with a stamp to make fun shapes. Sounds a lot like playing with Play-Doh, doesn't it? Making home-made gnocchi is especially easy because it does not require any special tools. All you need is a few basic ingredients and some counter space to roll out your dough. With adequate parental supervision (and clean hands), you child can learn how to shape and safely cut the dough into mini dumplings. After a quick boil (I strongly suggest the parents handle this portion of the project) your family will have a delicious bowl of delicate, pillowy purses of fresh pasta, perfect for serving with a traditional red gravy or a nice butter sauce accented with parmesan cheese, garlic and sage!  You can also make gnocchi ahead of time and freeze it for future use, like we did.
Here are a couple easy home-made gnocchi recipes, along with my favorite savory brown butter sage sauce recipe:
Gnocchi – courtesy of allcecipes.com
http://allrecipes.com/recipe/18465/gnocchi-i/
Lidia Bastianich's Butternut Squash Gnocchi – courtesy of alexandracooks.com
http://www.alexandracooks.com/2010/10/31/lidia-bastianichs-butternut-squash-gnocchi-with-sage-brown-butter/
Butter and Sage Sauce – courtesy of foodnetwork.com/Mario Batali
http://www.foodnetwork.com/recipes/mario-batali/butter-and-sage-sauce-recipe.html
Home-made Whipped Cream
Dessert is always a child's favorite meal. A rich and decadent, gooey sweet treat is enough to get someone young or old to start salivating. But dessert doesn't always have to be over-the-top to be enjoyable. One of the easiest and most versatile desserts to make is a light and fluffy home made whipped cream. Whether you are using it as topping on a pie or brownie, dolloped in a mug of hot cocoa, or as a dip with fresh fruit, a bowl of fresh made whipped cream will always be better than any store bought can or tub. You will need either a hand mixer or a stand mixer to properly make home made whipped cream, but again this is a recipe that a child could easily help make – with proper supervision, of course.
Here is a simple and easy recipe for home made whipped cream:
1/2 pint heavy whipping cream
1 tbspn powdered sugar
1 tspn vanilla extract
Combine cream, powdered sugar and vanilla extract in a chilled mixing bowl. Using a hand mixer or a stand mixer, mix together until soft peaks form. Cover and refrigerate until ready to use.
As you can see from the photos below, we had a lot of fun in the kitchen this past weekend. Both Ava and I walked away from the cleaned-up kitchen feeling a sense of accomplishment and pride. I look forward to spending many more days in the kitchen with my kids, and I will be sure to share those experiences with you here on my food blog. Please feel free to share with me your stories of kitchen time with your kids by writing to info@domskitchen.com. They are moments to be cherished, for sure!