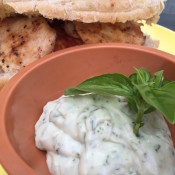 If you're looking to put your harvested basil to good use, today's recipe is an excellent way to do so. Inspired by Ina Garten's Basil Mayonnaise recipe, this quick and easy version uses just a few key ingredients, all of which are everyday cooking staples.With just a few pulses in your food processor, you will have a tasty condiment that is perfect for any sandwich. My personal recommendations are for a tomato and fresh mozzarella sandwich, a chicken cutlet hoagie or a juicy BLT. And don't forget to use the good, crusty bread!
Quick and Easy Basil Mayonnaise
1 cup good mayonnaise
10 basil leaves
1 clove minced garlic
1 tspn lemon juice
dash of salt and pepper
2 tsp olive oil
Place all ingredients into a food processor. Blend for 30 seconds, or until all ingredients are mixed well. Chill immediately in a closed container until ready to serve.