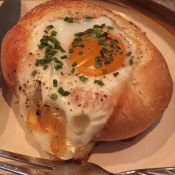 Eggs in a Basket has been a fun and popular breakfast item for many years. Quite a few versions of this meal exist, from the quick and easy Toad in the Hole* (using a juice glass to cut a hole in the center of toast, then frying an egg in the center of the hole), to lining a muffin tin with hash browns and bacon, then topping with a scrambled egg batter before baking.
In my version which I am about to share with you, we will be using dinner rolls that are hollowed out and baked with an egg poured inside. While this is also a very popular and common version of Eggs in a Basket, I'm adding a bit of an Italian spin to mine. Before cracking the egg into the hollowed roll, I add a slice of provolone cheese to the lining of the roll, then fill it with a tablespoon of bruschetta (home-made or jarred will work well). I also like to sprinkle some fresh herbs, salt and pepper on top of the basket for additional zing. These extra ingredients add a beautiful flavor and texture to an already classic dish. With springtime  finally in the air and Easter Sunday just a few days away, this dish will make for a great brunch item to serve to family and friends…and it's just as easy to make a single serving for yourself during the week!
Italian Eggs in a Basket
The recipe is per serving. You can make as many, or as little as you wish!
*Note – there is also a British version of Toad in the Hole, which consists of sausages baked in Yorkshire pudding, served with vegetables and onion gravy. Maybe I'll consider adding an Italian spin to that dish somewhere down the line….