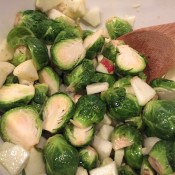 Brussels sprouts have quickly become one of my favorite greens to serve as a side dish to a Sunday meal. My Honey Balsamic Brussels Sprouts recipe, which I posted a while back (found here), is also one of the most talked about recipes on my food blog. For this recipe, I'm combining brussels sprouts with chopped apples and kale (another of my favorite green power foods) for a healthy, tasty and vibrant side dish that is perfect for Thanksgiving dinner.
Because kale can toast up pretty quickly in the oven, you do not need to add it to this dish until the last 7-10 minutes of baking. By simply layering the kale on top of the already baked sprouts and apple mixture, the kale will toast up nicely, while absorbing the flavors of the other ingredients. Once removed from the oven, gently fold in the kale, plate it, and serve it up with all of your other favorite Thanksgiving sides!
Roasted Brussels Sprouts, Apples and Kale
1 12oz package brussels sprouts, tips removed, then sliced in half
2 apples – peeled, cored and cut into 3/4 inch chunks (Macintosh or Granny Smith work well)
2 tbspn olive oil
1 tbspn honey
1/2 tspn onion powder
handful of chopped kale
zest plus juice of 1 lemon
salt and pepper to taste
Preheat oven to 425˚. Mix olive oil, honey and onion powder together. Place brussels sprouts and apples into a baking dish. Toss with oil and honey mixture. Bake uncovered for 15 minutes, or until sprouts are softened. Remove from oven, layer the top with kale, place back in oven for another 7-10 minutes, or until the kale starts to crisp. Remove from oven, mix together. Top with zest and juice of one lemon. Season with salt and pepper.