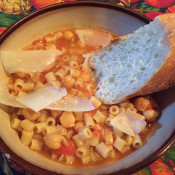 With the cooler fall air rolling in, now is the time of year that I enjoy making soups and stews. This past weekend's brisk weather was the perfect time for me to make a pot of Pasta e Ceci (pronounced as pasta & chichi), which is a cousin to the famous Pasta e Fagioli. Instead of using the traditional kidney or cannelloni beans, this recipe uses garbanzo beans, also known as chickpeas. Many pasta e ceci recipes use ingredients similar to other pasta and bean dishes, such as pancetta, fresh rosemary and thyme, and a mirepoix (sautéed carrots, celery and onions). My recipe is a bit abbreviated, but I promise you it does not lack in heartiness or rich flavor! My version of this dish can be prepped and served in just under an hour, which makes it a practical and comforting dish for any chilly weekend or weekday meal.
Pasta e Ceci
1 small yellow onion, finely chopped
2 cloves garlic, minced
2 tbspn olive oil
2 bay leaves
1 14oz can stewed tomatoes
1 16oz can garbanzo beans/chick peas, drained
1 32oz can/container of low sodium vegetable or chicken broth
1 tbspn grated parmesan cheese, plus additional for serving
1 cup short cut pasta, such as dilatini or elbow macaroni
salt and pepper
Heat oil over medium heat in a large pot. Add onion, stir to evenly coat. Let simmer until onions become soft and translucent. Add garlic, stir. Simmer for 30 seconds, until garlic becomes fragrant. Add stewed tomatoes and their juices, along with about 1/3 can of beans. Add bay leaves, stir together. Let simmer for about 5-7 minutes. Using a potato masher, rough-smash the tomatoes and beans, making a chunky broth. You can also use an emulsifier or remove the beans to puree them and add them back into the soup for a creamier texture, but I prefer to mash them along with the softened tomatoes. Add the remaining beans, along with 3 cups of the broth. The soup will thicken up as it cooks, so you can add the remaining broth as needed. Add 1tbspn grated parmesan, stir. Cover the pot, reduce heat to medium low and let simmer for about 15-20 minutes, stirring occasionally. Add pasta, stir well. Again, the soup will thicken up as the beans and pasta cook and expand. You can slowly add more broth or water as needed, or to your liking. Heat another 5-10 minutes until pasta is cooked. Season with salt and pepper to taste. Remove and discard the bay leaves. Serve with crusty bread. Top with additional grated or shaved parmesan cheese.