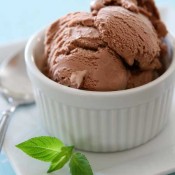 Summer days and summer nights are heating up, and what better way to cool down than with a refreshing scoop (or two) of ice cream? Well…how about a few scoops of fresh, home-made ice cream! Sounds intimidating, right? But the truth is, home made ice cream is pretty simple to make, and the key ingredients needed are most likely already on hand. Home made ice cream is also really fun for the kids to help make, and with a little creativity, the flavors and variations are endless.
Foodal.com, which is another great food and drink website, was kind enough to share with me their recipe for a home made ice cream base. This is the basic recipe for home made ice cream, which itself is quite tasty and refreshing. What I found interesting about this recipe as opposed to others that I have tried was that it uses eggs. Recipe author Ashley Martell explains: "Yes, you can make ice cream without any egg, but the egg helps to keep ice crystals from forming in the dessert and keeps it creamy smooth. It also gives you the silky mouth feel that you simply can't get without egg yolk."
Along with the ice cream base recipe, their website also includes recipes for vanilla, salted caramel, coconut, chocolate, and chocolate hazelnut ice cream. This, of course, is just a small sample of the amazing flavor combinations that you can come up with. From strawberry-basil and lemon mint, to cookies & cream and bourbon pecan…the variety is just a scoop away!
You will need an ice cream machine to help churn the ingredients, but again this is nothing to be intimated by. Amazon.com has a wide variety of ice cream machines, ranging from as low as $29.99 for a basic machine, to well over $200 for a gourmet gelato maker.
Bottom line…if you're an ice cream fan, you should definitely give these home-made recipes a try!
Homemade Ice Cream Base
Courtesy of Ashley Martell/foodal.com
Ingredients
2 cups heavy cream
1 cup whole milk
2/3 cup sugar
1/8 teaspoon fine sea salt
6  large egg yolks
Instructions
In a small saucepan, combine cream, milk, sugar and salt and bring to a simmer over medium heat. Cook until the sugar completely dissolves, about 5 minutes. Remove the pot from heat and set aside.
In a separate bowl, whisk egg yolks, and while whisking constantly, slowly pour about 1/3 of the hot cream into the yolks to bring them to temperature (this is to avoid inadvertently making scrambled eggs).
Pour the yolk mixture back into the pot with the remaining cream. Return the mixture to a medium-low heat and cook until mixture is thick enough to coat the back of a wooden spoon.
Strain the cream through a fine-mesh sieve into a separate bowl. Cool mixture to room temperature, and then cover and chill your base at least 4 hours, or overnight.
Churn in an ice cream maker according to the manufacturer's instructions. You can eat the ice cream right away, but it will be more of a soft serve ice cream. For a firmer product, allow it to continue to firm up in the freezer for a few hours, or overnight.
Click here for the foodal.com home made ice cream page, which includes their base recipe, as well as recipes for vanilla, salted caramel, coconut, chocolate, and chocolate hazelnut ice cream.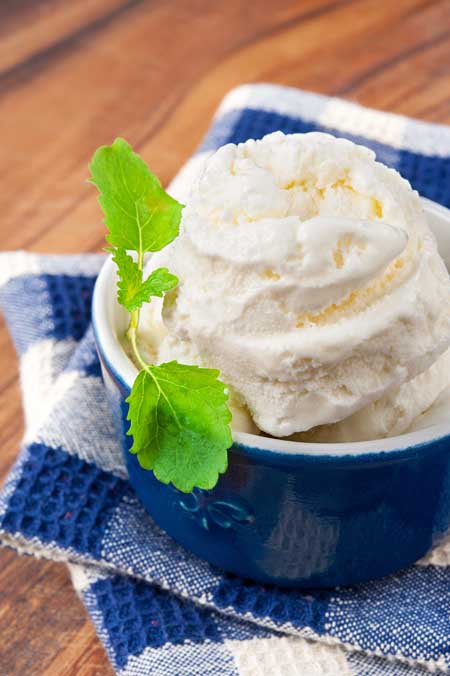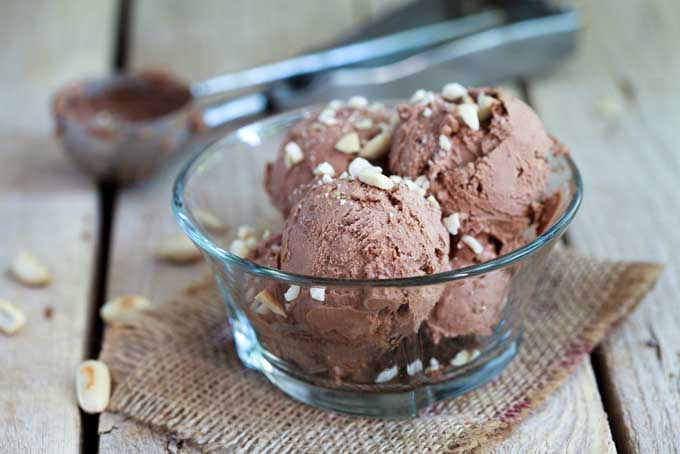 Images courtesy of foodal.com/Ashley Martell