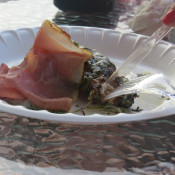 Growing up in South Philadelphia, I have enjoyed more than my share of delicious and delectable sandwiches. While cheesesteaks, hoagies and roast pork sandwiches rank among highest on most Philadelphians' lists, my all time favorite 'sang-weech' is the classic Chicken Italiano. Seasoned chicken breast, broccoli rabe, prosciutto and provolone packed in a crispy Italian roll…what is there not to love? Now I do realize that there are different variations of a Chicken Italiano, using other ingredients such as peppers, mozzarella and sun dried tomatoes. But the prosciutto, provolone and rabe combination is the version that I fell in love with. For this post, I would like to share with you my grilled version of this amazing combination….a perfect dish for any summer cook-out!
This grilled version does differ just a bit from the classic sandwich. First, while broccoli rabe is one of my all-time favorite greens, I decided instead to use a home made basil-mint pesto. My garden is overloaded with fresh basil and mint, so I figured it would be a great opportunity to put both to good use. Of course, you can stick with the traditional broccoli rabe if you prefer. I also like to prepare and serve the chicken breasts whole. You can cut the chicken breasts into smaller pieces to serve in a sandwich if you like, but I find that cooking and serving the chicken breasts whole allows for prosciutto, provolone and pesto (or rabe) to melt evenly on top.
You'll want to marinate the chicken breasts for a good two to four hours before grilling. You can find a good, basic lemon and garlic marinade by clicking here. You can also used a bottled marinade of your choice, but I would stick to a basic garlic, lemon or white wine flavored marinade. There are too many good tastes happening with this dish, so you don't want to overpower the chicken with an strong-flavored marinade.
Grilled Chicken Italiano
4-6 boneless and skinless chicken breasts
4-6 slices prosciutto
4-6 slices provolone cheese
*Basic lemon-garlic marinade (see recipe below) or 1 bottle marinade (any combination of garlic, lemon and white wine will work)
**Fresh basil-mint pesto (see recipe below)
Pierce chicken breasts with a fork to allow marinade to soak in. Place chicken breasts in a plastic bag, pour marinade into bag, making sure that all of the chicken breasts are well coated. Refrigerate for two to four hours.
Pre-heat your grill to high. Make sure that your grill grates are brushed with oil to avoid sticking. Reduce heat to medium-high, and place the chicken on the grill, discarding the bag with the used marinade. Keep lid closed. Turn chicken occasionally, until browned and done. Top the chicken breasts with a dollop of the pesto, a slice of provolone and a slice of prosciutto. Allow to heat for another few minutes until the cheese starts to melt and the prosciutto starts to slightly crisp. Remove from grill, serve and enjoy!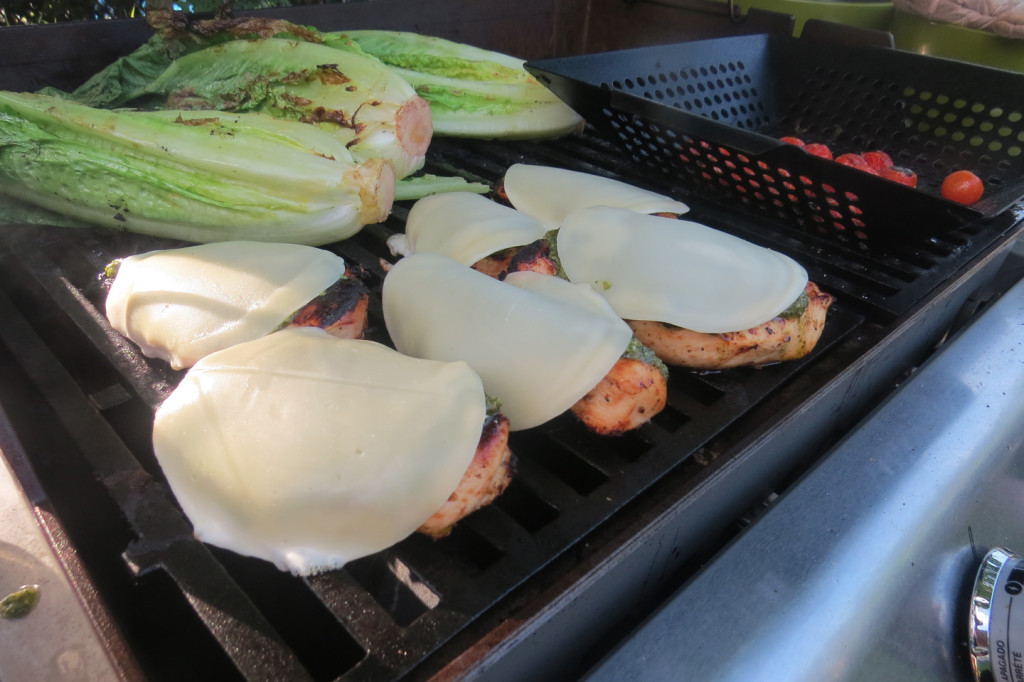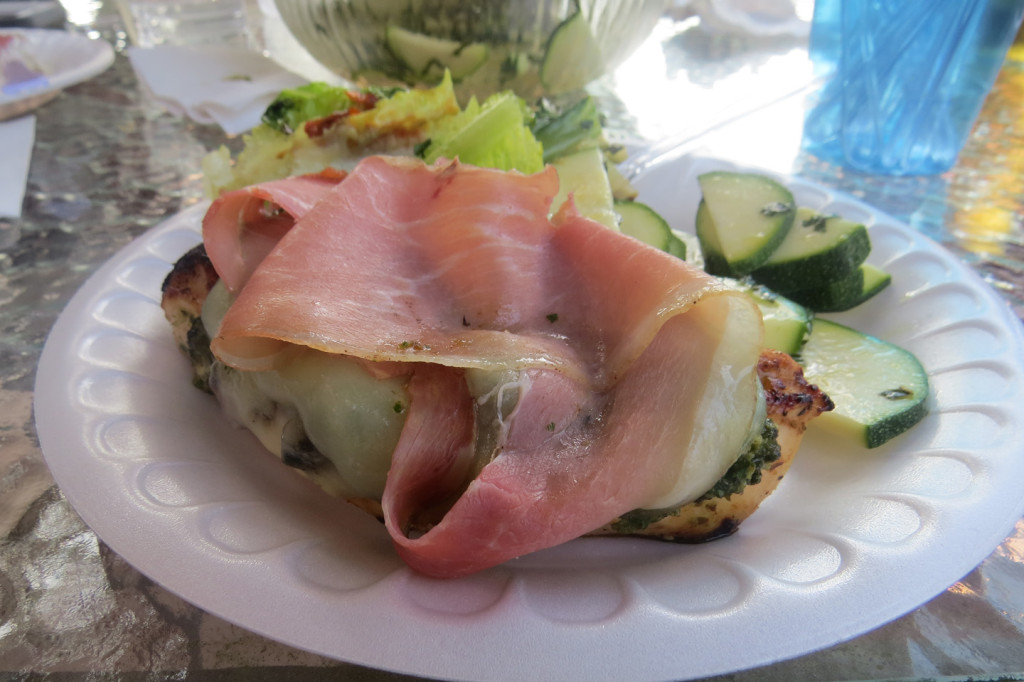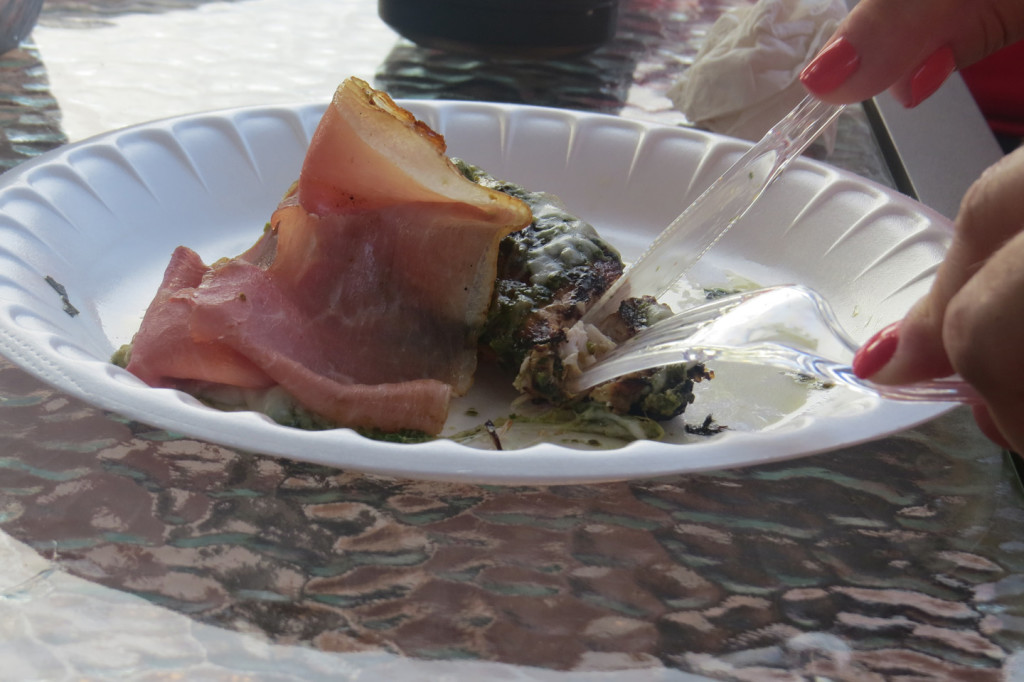 *Lemon-Garlic Marinade
Adapted from food.com
2 cloves garlic, minced
4 tablespoons olive oil
2 tablespoons chopped fresh parsley
3 tablespoons lemon juice, fresh preferred
1⁄8 teaspoon pepper
Combine all ingredients together to pour over chicken.
Note – this recipe's measurements are for 1-1.5 lbs of chicken breasts. You may need to increase the ingredients for the amount of chicken breasts that you are making.
**Fresh Basil-Mint Pesto
Adapted from simplyrecipes.com
1 cup fresh basil leaves, packed
1 cup fresh mint leaves, packed
1/2 cup freshly grated Parmesan-Reggiano or Romano cheese
1/2 cup extra virgin olive oil
1/3 cup pine nuts or walnuts
3 medium sized garlic cloves, minced
Salt and freshly ground black pepper to taste
Combine the basil and mint with the pine nuts, pulse a few times in a food processor. (If you are using walnuts instead of pine nuts and they are not already chopped, pulse them a few times first, before adding the basil.) Add the garlic, pulse a few times more.
Slowly add the olive oil in a constant stream while the food processor is on. Stop to scrape down the sides of the food processor with a rubber spatula. Add the grated cheese and pulse again until blended. Add a pinch of salt and freshly ground black pepper to taste.
Use immediately, or refrigerate in a sealed container for up to a week.
Makes 1 cup.