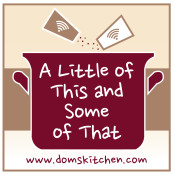 For ages, cookbooks have been an integral part of the kitchen, being just as important of a cooking tool as your most used pots and pans. Nowadays, virtually any recipe that you want is right at your fingertips, thanks to the internet. However, there are still plenty of well-crafted cook books that are being written that should not be overlooked. In this episode, I'm sharing with you some of my favorite food-related books, ones that I treasure not only for their recipes, but also for their well-told stories and incredible photos. Pull up a chair, pour yourself a cup of coffee and join us!
Be sure to contact us at info@domskitchen.com or in the Comments section below to let us know your favorite cook books and what you thought about this episode of A Little of This and Some of That.
You can click on the images below for more information and for purchasing.