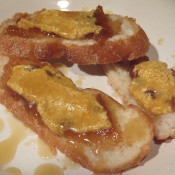 I always got a kick out of how television painter Bob Ross would turn artistic mistakes into 'happy little accidents'.  This recipe isn't so much of a mistake or an accident as it is a substitution, but it's end result still made me much happier than anticipated.
My first intentions were to take the classic Italian dish of fresh figs, ricotta and honey, and add a little seasonal flare to it. My version would be fresh figs, pumpkin ricotta and a maple honey syrup. The only problem was that on the day that I planned to make this, I couldn't find any figs. Every store I checked…nada. I guess I wasn't the only one with figs on the brain that day.
I was offered two alternatives by one of the produce people that I spoke to that day. They suggested either dried figs or fig preserves. I didn't think that dried figs would be a good substitute, but the jarred fig preserves got my wheels spinning. Since the preserves are obviously meant to be a spread, why not turn my idea into an autumn crostini? The lack of fresh figs turned into a happy and delicious Pumpkin Ricotta and Fig Preserve Crostini drizzled with maple honey syrup.
NOTE – the pumpkin ricotta is not as sweet and creamy as a pumpkin spread, filling or mousse. The ricotta cheese flavor stands out the most…with a bit of a cinnamon and pumpkin pie spice kick. It's  quite delicious.
The following ingredients makes for a small batch of pumpkin ricotta. You can double up on ingredients to make a larger batch.
Pumpkin Ricotta
4 oz ricotta
2 oz pumpkin puree
1 tspn powdered sugar
1/4 tspn pumpkin pie spice
1/2 tspn cinnamon
1/2 tspn vanilla extract
Honey Maple Syrup
1/4 cup unsalted butter
1/4 cup honey
1/4 cup maple syrup
1 small jar fig preserves
1 French baguette, thinly sliced and toasted
Directions:
Combine all pumpkin ricotta ingredients into a bowl, whip together until well combined. Chill in fridge for at least 1 hour.
Melt butter in a small sauce pan. Remove pan from heat, stir in honey and maple syrup.
Lightly coat the toasted crostini bread with fig preserves, add either a smear or dollop of pumpkin ricotta. Lightly drizzle with honey maple syrup.
If you do happen to come across fresh figs, you can slice them and dip them into the ricotta, or you can add a dollop of the ricotta to the top of the figs and drizzle with the honey maple syrup.