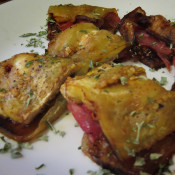 One of the more trendy dishes that you may find today on an Italian menu is Eggplant Involtini.
Inspired by the Italian word for 'little bundles', eggplant involtini is thinly-sliced eggplant, stuffed and rolled with a ricotta filling, then cooked in a basic tomato sauce. My wife and I always preferred to have our eggplant prepared thin, so involtini is a dish that we enjoy whenever we have the chance.
For my version of eggplant involtini, I'm replacing the ricotta stuffing with a garlic-herb goat cheese (one of my latest guilty pleasures) topped with a thin slice of prosciutto. There is no need for tomato sauce in this recipe (although feel free to add it on top if you wish).
When baked, the eggplant develops a slightly crunchy exterior and a soft and tasty interior, and is the perfect casing for the crispy and salty prosciutto and the creamy and tangy goat cheese.
This dish serves well as an appetizer or a main course.
Ingredients:
1 large eggplant, skin removed and sliced thin from top to bottom (you will get about 6-8 slices)

olive oil

salt and pepper

garlic herb goat cheese

prosciutto
Directions:
Preheat oven to 375˚. Lightly drizzle eggplant slices on both sides and season with salt and pepper. Place slices on a cooking sheet and bake for 15-20 minutes, or until eggplant starts to turn golden brown.
Remove from oven, flip the eggplant slices and place a dollop of the goat cheese on each slice. Top with a thin slice of prosciutto, then fold in half (rolling may cause the slices to break). Place the eggplant back into the oven for another 5-10 minutes, until the eggplant is a rich golden brown, being careful not to burn the eggplant.
Serve and enjoy.