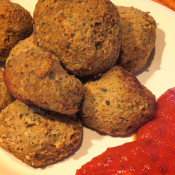 Could it be? A meatball recipe that doesn't include beef, pork and veal, and isn't fried? I've preferred baking meatballs over frying them for a long time now…but a meatless meatball? Truth is, there are a lot of interesting vegetarian meatball recipes out there. I find that eggplant is a fun vegetable to experiment with, and a little research led me to quite a few eggplant meatball recipes. I picked and chose from a bunch and put together my own version, which also includes white beans. While obviously not the same taste and texture as a true meatball, these are loaded with great flavor, and are very hearty and filling. Crunchy on the outside, moist and chewy on the inside…it was a perfect substitute for the real deal. What's best is that my youngest daughter Ava, who is a meatball aficionado, powered through a dish of these! Serves well on their own or with a dish of marinara on the side for dipping.
Eggplant and White Bean Meatballs
Makes approximately 12 meatballs
1 large eggplant, skin removed, cut into 1″ pieces
1 shallot, finely chopped
2 tbspn olive oil
1/4 cup warm water
salt and pepper
1 tbspn fresh basil, finely chopped
1 tbspn mint, finely chopped (you can use 2 tbspn basil if you do not have mint on hand)
1/2 cup canned canellini or garbanzo beans, rinsed
1/2 cup parmesan cheese
1 cup bread crumbs
1 egg, lightly beaten
Preheat oven to 375˚. Heat olive oil in a large pan over medium-high heat. Add shallots, cook for one minute. Add eggplant, then add water. Stir so that all of the eggplant pieces are coated. Season with salt and pepper. Place a lid over the pan, lower the heat to medium and let eggplant cook until soft and tender, about 10-12 minutes (stirring occasionally). Remove eggplant from the pan, set aside to let cool.
When cooled, place eggplant in a food processor with remaining ingredients. Pulse until well mixed, but not puréed. You can mix by hand if you do not have a food processor, but the meatballs will have a chunkier consistency. Shape the mixture into small balls as you would with traditional meatballs. Placed the meatballs onto a lightly sprayed baking sheet. Lightly spray the meatballs. Bake for 25-30 minutes.
Serve with marinara sauce.