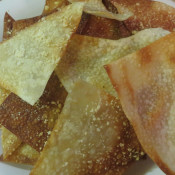 If you're a reader of my blog, a friend of mine on Facebook, or have recently been at a dinner party with me, you'll know that I've been experimenting a lot lately with appetizers that use egg roll and wonton wrappers. These recipes have given me lots of creative energy and inspiration. They've also left me with an over-abundance of unused wonton wrappers sitting in my fridge.
We recently put the extra wrappers to good use as we had a little fun in the kitchen with the kids, making batches of baked wontons. The recipe is very simple and easy, and could be found on countless food sites. You place the wrappers on a cookie sheet, either whole or cut in half to make a traditional tortilla chip shape, and you bake 'em. Done.
Baked wontons can be served plain, without any seasoning. The chips will have a light, crispy taste to them that would go well with any number of dips. To kick our chip flavor up a bit, we sprinkled them with a bit of parmesan cheese before baking them…and they were a huge hit. There was just enough cheesy zest there to really give a nice flavor to the chip.
You can go all kinds of directions with seasoning for wonton chips – anywhere from barbecue or ranch seasoning to Italian spices to cinnamon. But I would suggest to avoid salt. There is enough flavor in the wonton wrappers where just a little bit of salt may be too much. Baking without seasoning does not require any cooking spray. But if you do decide to add seasoning to your chips, be sure to spray them prior to seasoning and baking. Spraying the chips will also make for a slightly crispier chip, which we all preferred in my house.
Now chip away!
Baked Parmesan Wonton Chips
1 package wonton wrappers (found in the produce section of your grocery store)
grated parmesan cheese
cooking spray
Preheat oven to 400˚. Place individual wrappers, either whole or cut in half diagonally, on a lightly greased cookie sheet. Lightly spray the top of the chips, then lightly dust the chips with grated parmesan. Bake for 5 minutes. Remove from oven, let cool for a few minutes.
Serve and enjoy.