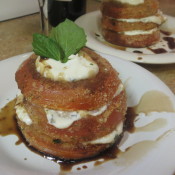 Here's a recipe that was inspired by a dish that I prepared with Chef Abigail Hitchcock on the day that I spent in the kitchen of New York City's Camaje Bistro. Chef Abby's original recipe was for Eggplant Napoleon, which is eggplant that is sliced and seasoned with olive oil, salt and pepper, baked and then layered with an herbed goat cheese spread. While Chef Abby's version was absolutely phenomenal, and both a joy to prepare and eat, I decided to try my own spin on it. While I am keeping the same basic idea and assembly steps, I'm substituting the eggplant with lightly breaded beefsteak tomatoes, and am making some minor adjustments to the goat cheese spread based on ingredients that I had on hand.
I came up with the idea of breading the tomatoes for a number of reasons:
• it helps contain the tomato's shape and juices while baking;
• it allows for the cheese filling to spread evenly when cooled without mixing with the tomato's juices…which would otherwise make for the cheese to become runny;
• it adds a nice taste to the tomatoes.
I only made a few minor adjustments to the original cheese filling recipe due to the ingredients that I had on hand. While Chef Abby used a combination of goat cheese and cream cheese, I used goat cheese and creme fraiche (which I've been on a kick with as of late). Also, instead of thinning out the mixture with heavy cream, I used a bit of olive oil. I kept the fresh thyme and sea salt for flavoring, and the mixture was perfect.
This is an ideal dish to make as an appetizer, or even as a small meal for a romantic home cooked Valentine's Day dinner. Not only is it a very tasty and filling dish, it also makes for a beautiful and elegant presentation.
Breaded Tomatoes Napoleon
2 large beefsteak tomatoes
1/4 cup breadcrumbs
1 tbspn grated parmesan cheese
Sea salt and fresh ground black pepper
Olive oil
4 oz soft goat cheese
2 tbspn creme fraiche
a few sprigs of fresh thyme
balsamic vinegar
Preheat oven to 375˚. Removing the top and bottom of the tomatoes, slice each tomato into three equal slices, about 1/2 to 3/4 inch thick. Drizzle the slices lightly with olive oil, then lightly coat with a mixture of breadcrumbs, parmesan cheese and a pinch of salt and bit of pepper for seasoning. Place the tomato slices on a cooking sheet and bake for 12 minutes, flipping once halfway through. Remove from oven and let the tomatoes cool. Spreading the cheese filling on the tomatoes while they are still too warm will make the filling liquidy and runny.
In a bowl, mix together the goat cheese, creme fraiche, thyme and a pinch of sea salt. Drizzle just a bit of olive oil into the mixture and mix well until you get a creamy, spreadable texture.
When the tomatoes are cooled, place one slice on a plate, then add a layer of the cheese filling. Top with a second tomato slice and another layer of cheese filling. You want to make a it a total of three layers deep. Repeat these steps for the second plating. Add a very light drizzle of balsamic vinegar on the surrounding plate area for dipping.