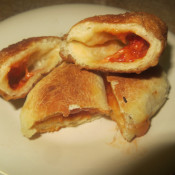 Panzarotti…pizza turnovers…calzones. Whatever you may call them, they are all a type of an inside-out pizza, which is  pizza dough that is folded in half, sealed, and either baked (calzone/pizza turnover) or fried (panzarotti) to make half-moon shaped pockets packed with mozzarella cheese, sauce and other classic pizza toppings. These are not to be confused with stromboli, which is pizza dough topped with cheese and other pizza toppings, then rolled and baked like a stuffed bread.
I grew up knowing (and enjoying) the panzarotti version. On the corner of my Grandparent's street there were not one, but TWO panzarotti shops. The original Mr. Panz, and directly across the street, Florida Style Pizza. Now, if you are at all familiar with the corner of Beechwood and Snyder in South Philly, you'll know that there may be no more than 25 feet between the two corners, so competition between the two storefronts was fierce (our choice was always Florida Style). Mr. Panz is now long gone, but Florida Style is still around, and still frying up their classic inside-outs.
While the panzarotti is fried and usually filled with basic pizza toppings (cheese, sauce, pepperoni, mushrooms), the calzone is more of a classier dish. They are baked, and can be filled with more gourmet-style ingredients, such as spinach, broccoli, sautéed veggies, ham and other cheeses and meats.
Because my kids have yet to try either a calzone or a panzarotti , I thought it would be fun to make both, have a little taste test, and let my kids figure out the difference on their own. We rolled out some basic pizza dough and used a 4″ circular cookie cutter to make mini circles of dough. If you don't have a cookie cutter, you can use a large glass or a small bowl to cut the dough. We then placed some shredded mozzarella cheese  and a tablespoon of pizza sauce in the middle of each circle, then folded and sealed them. Half were brushed with olive oil and went into the oven at 400˚ for 15 minutes, and the other half went into a deep frying pan, filled with 1″ of canola oil. The fried versions were flipped back and forth until brown and bubbly, while the baked ones were done when the dough was starting to brown.
After letting them all cool for a minute, we sliced them in half and served them to up to the kids. Surprisingly, they picked the baked version, because they said that the dough tasted more like traditional pizza dough. This, of course, didn't stop them from devouring the fried version in minutes. "They taste like pizza donuts!" is what I kept hearing about the panzarotti style inside-outs.
I gotta admit, I was a bit disappointed that my kids didn't quite appreciate the greasy, bubbly pockets of pizza heaven that I grew up with and enjoyed. But I am glad that they did enjoy trying them, and had fun judging the big taste-test. I'm sure we'll be making these again some time, especially when the kids have friends over, or we have a family party. It's a fun, tasty snack food to make and enjoy with a group!
Oh, before I finish, we did also make a gourmet version of the baked calzones. I went with the trendy prosciutto, goat cheese and arugula toppings (way to classy and delicate to be fried), and they were off the charts. I can see myself having a lot of inside-out fun in the kitchen.
Mini Inside-Out Pizza
Basic pizza dough, rolled thin (one rolled-out dough will make about 5 mini circles)
(you can use store bought or click here for a basic pizza dough recipe)
Shredded mozzarella cheese
Pizza Sauce
Plus…
Your choice of any other pizza toppings
Cut out 4″ to 6″ round pieces of dough using a round cookie cutter, large juice glass or small bowl. Place some shredded mozzarella cheese  and a tablespoon of pizza sauce (along with any additional toppings) in the middle of each circle, then fold and press the edges to seal them shut. If you are baking them, brush the tops with olive oil and place on a cookie sheet. Bake at 400˚ for 15 minutes, or until the tops start to brown. If deep-frying, fill a large frying pan  with 1″ of canola oil. Carefully place the folded pizzas into the hot oil, and use a slotted metal spoon to flip back and forth until golden and bubbly on each side. If you are planning to use gourmet-type ingredients, such as vegetables and multiple meats, I would recommend baking. The basic ingredients work best for frying.