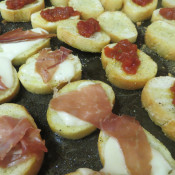 If you're looking for a simple and impressive appetizer for your New Year's Eve house party, or if you want to look like a gourmet, rock-star guest at someone else's house party, crostini is the perfect dish to serve. With just a few basic ingredients, many of which you probably already have in your kitchen, you can prepare and serve a variety of crostini in under 20 minutes. If you're planning to make crostini for another person's house party, you'll want to bring all ingredients with you and prepare it while you're there. Check with your host ahead of time to see if they have olive oil, grated parmesan cheese and salt and pepper on hand for you to use (you'll only need a bit of each). If they don't, be sure to let them know that you'll supply it…and then leave whatever is unused at your host's house as a token of appreciation for them allowing you to use their kitchen.
Ingredients:
1 long, thin loaf of crusty bread, preferably a baguette
1 ball fresh mozzarella (do not use the bagged shredded cheese)
6-8 pieces of thin-sliced prosciutto (the pre-packaged variety will work for this in a pinch)
1 small jar bruschetta topping
olive oil
grated parmesan cheese
salt
pepper
Directions:
Preheat oven to 350º. Slice the baguette into 1/2″ slices. Place the slices on a baking sheet. Lightly drizzle the slices with olive oil, then sprinkle with a light amount of salt and pepper (do not add salt to the pieces that you will be topping with prosciutto, there is enough salt in the meat). Use any combination of thin slices of the mozzarella, pieces of the prosciutto (about 1/4 of a slice of prosciutto for each piece of bread will be plenty), a spoonful of the bruschetta topping and the parmesan cheese to assemble a variety of crostini. I like to top some with the prosciutto and mozzarella, some with the bruschetta and parmesan, and some with just the parmesan and an additional drizzle of olive oil. You can also add some garlic powder for additional taste. Bake the crostini for about 8-10 minutes, until the bread is toasted and the toppings are heated but not burned.
Serve immediately and enjoy!