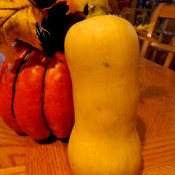 Aside from pumpkins, butternut squash is the food that I most associate with the fall season. Every autumn, without fail, I'll pick up a butternut squash at least two or three times during the season. And every time I pick one up, I say to myself "ok, now what am I going to do different with this?" I love the traditional soups, risottos, pastas and baked butternut squash dishes, but I'm always on look-out for a new idea. Last week, after I bought my first butternut squash of the season, I did some research and put together a recipe for butternut squash home fries that has three easy steps:
1. easy to cut (this is always a challenge, since most fall squash are usually hard as a bullet);
2. easy to prepare; and
3. easy to serve.
What you'll need for this recipe is one nice size butternut squash, a vegetable peeler, a sharp knife, some olive oil, salt and pepper, and some basic seasonings (suggestions for sweet and savory seasonings are listed below). Start by peeling the skin off of the squash. This step is actually a lot easier that I thought it would be. While the squash as a whole is very tough and often hard to slice through, the skin itself peels without much effort. Next, you are going to cut off and discard the top tip and the bulbous bottom part of the squash. The bottom part houses most of the seeds, so this steps helps you avoid messy cleanup. You can save the bulbous part for another recipe, but I found it wasn't necessary for this dish.
Next, you are going to cut the squash in half lengthwise, then you are going to cut both halves in half again, lengthwise. Be sure to remove and discard any remaining seeds. You now have four long, thin pieces of squash.
The next step is to slice the squash into very thin slices. The thinner the slices, the crispier the home fries will be. Depending on the amount of time you have, you can use a food processor with the slicing blade, a vegetable peeler, or VERY CAREFULLY use a sharp knife. When the squash is sliced, you'll want to place the slices into a bowl and drizzle with olive oil. Next you'll want to add your salt and pepper, and your seasonings, and then mix everything up so that the slices are lightly and evenly coated.
Spread the slices evenly onto a baking sheet covered with parchment paper. Make sure that the slices are not overlapping to guarantee that all of the slices are baked through. Place the tray into an oven pre-heated to 375º. Bake for 30-35 minutes, or until the slices start to brown and curl. Remove from the oven and let sit for a few minutes. The slices will harden and crisp up a bit as they cool. Serve it as a side dish to chicken, meat or fish.
THE SEASONINGS
The nice thing about this dish is that the seasoning could be either sweet or savory, depending on what you're in the mood for and with what you are serving the home fries.
For sweet home fries, add 1/2 tspn (or to taste) of either cinnamon, nutmeg, ginger, or allspice to the butternut squash. You can also add sliced apples to make it a festive fall dish.
For savory home fries, add some chopped thyme or sage leaves and 1/2 tspn (or to taste) of onion powder. You can also add parmesan cheese for extra flavor.
Follow up: My friend Tom, who does a thicker french fry-cut version of this recipe, noted that not only is this a quick and easy dish, but it is also a much healthier option than traditional french fries or even sweet potato fries, because it is baked and not fried. To make the french fry-cut version, cut into slightly larger pieces and bake for 40-45 minutes, turning half way through.