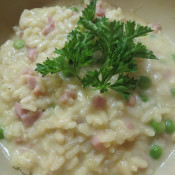 In a recent 'Joe Sixpack' article that appeared in the Philadelphia Daily News, author Don Russell highlights some of the incredible combinations that local cheese makers and craft brewers are pairing together. It was very inspirationional to learn how centuries-old techniques are being embraced and incorporated into modern-day cheese and beer making. It encouraged me to put together a recipe using two of my favorite pairings, pale ale and smoked gouda. It was also an opportunity to put one of my less favorite beers (Blue Moon Belgian Pale Ale, which came in a mixed case…not bad, but by far not my favorite of this style)  to good use.
Because we are smack-dab in the middle of a frigid winter, I decided to go with risotto, one of my favorite comfort foods. I also added to the mix diced ham and peas, another of my favorite combinations, for a little extra texture and taste. This turned out to be a very hearty and flavorful dish that needed no extra seasoning. It hit the spot on a below-freezing weekend night…even my 4-year old loved it!
Pale Ale Risotto with Smoked Gouda, Ham and Peas
1 large shallot, minced
2 tablespoons unsalted butter
2 tablespoons olive oil
1.5 cups uncooked Arborio rice
1 12-oz bottle pale ale (any pale ale will do, or an IPA will add a more complex taste)
3 cups of low-sodium chicken broth
1/2 cup cooked ham, finely diced
1/4 cup peas, cooked
6 ounces smoked gouda cheese, cut into small cubes
1/2 cup grated parmigiano reggiano cheese
Heat the low sodium chicken broth to near boiling, set aside.
In a medium saucepan, add 1 tablespoon of unsalted butter and 1 tablespoon of olive oil over medium heat. Add the shallots and cook until translucent. Add the rice, sautéeing until each grain is coated.
Add the beer and heat to simmer, stirring constantly. When the beer is mostly absorbed, add a ladleful of hot chicken broth to the saucepan. Stir constantly while simmering. Repeat procedure (ladle and stir once the liquid is mostly absorbed) for around twenty minutes.
When you are down to the final two ladles of broth, stir in the ham, peas and cubed gouda. Continue to ladle and stir, the gouda will melt into the risotto.
When all broth is incorporated, remove from heat, add the parmigiano reggiano cheese and remaining 1 tablespoon of butter and stir well. Serve with crusty bread.