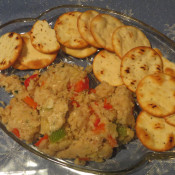 Now that we are just a few days away from celebrating the Feast of the 7 Fishes, which is one of the biggest and most important meals of the Italian and Italian-American culture, I am sure that most of you already have your menu planned. If you are looking for one more addition to your table, or another way to dress up one of your traditional dishes, this warm crab salad recipe is a tasty and versatile solution! With just a few basic ingredients and about 10 minutes of simmering on your stove-top, you can have this dish ready to be served in no time as an appetizer with crackers, mixed with a pasta in garlic and oil or even used as a stuffing in one of your other dishes.
From my kitchen to yours, I wish you a very Blessed and Merry Christmas.
Buona Natale!
WARM ITALIAN CRAB SALAD
1 red bell pepper, diced
1/4 cup chopped onion
1/4 cup chopped celery
2 tbsp. butter
2 tbsp. white wine
Juice of 1 lemon
8 oz. canned crabmeat*
1/3 cup seasoned breadcrumbs
*8 oz. of canned crab meat equals two 6 oz. cans (found with other canned fish) drained, or a half of a 1 lb can of pure packed crab meat (found in grocery store seafood section)
Heat butter in a pan until melted. Add onions and celery; heat until soft. Add crab meat, wine and lemon juice; stir. Add breadcrumbs, stir until warm. You can then serve it on top of pasta with garlic and oil or as an appetizer with crackers, as pictured below.