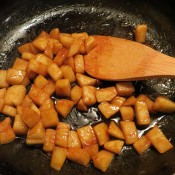 This week we're stepping away from the pumpkin patch and are talking about my other favorite fall food…apples! Whether they're picked fresh, squeezed into cider, baked into a pie or covered in caramel, apples are one of the most versatile and enjoyable foods this time of year. This recipe makes for a delicious and decadent topping for waffles, pancakes, ice cream, or even just enjoyed on their own (maybe with a little shot of whipped cream on the side). The spice measurements that I'm using  are a good starting point, adding just enough flavor without overpowering the taste of the apple. Feel free to adjust the spice measurements to your liking while the apples are cooking.
WARMED CINNAMON VANILLA APPLES
2 Granny Smith apples, peeled, cored and cut into 1″ cubes
1/2 tspn cinnamon
1 tspn brown sugar
1 tspn vanilla extract
1 tbspn butter
In a mixing bowl, combine apples, cinnamon, brown sugar and vanilla extract. Melt butter over medium heat in a frying pan. Add apple mixture, stirring often. Cook on medium-low to medium heat for about 10 minutes, until apples are soft. Serve immediately.