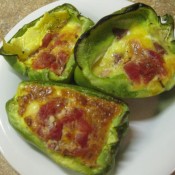 Some of my favorite go-to meals during the week, especially on the days when there's not a lot of time to prepare a big meal, are the old-fashion standards. Potatoes and eggs, pasta and beans, a quick soup, and my personal favorite, a nice peppers and eggs sandwich. For this post, we're going to get a little creative with the peppers and eggs. This recipe will save you prep time, as the peppers and eggs bake in the oven instead of on the stovetop. It also makes for a nice looking presentation if you're serving it as a meal any time of the day for family and friends.
Bell peppers (green or red) work best for this. Instead of dicing your bell peppers, you are simply going to cut the pepper in half length-wise, from the top of the stem to the bottom of the pepper. No need to remove the stem, it helps with the presentation. Gut out all of the seeds, but be sure not to puncture the pepper. You don't want any holes in the pepper (I'll explain why in just a bit). Lightly wipe down the peppers, both inside and out, with a little olive oil. Place the peppers cut side up on a lightly greased baking dish.
Next, you'll want to mix up your eggs. You'll need two eggs per pepper. I use a basic mixture of egg, salt, pepper and some parmesan or feta for taste and texture, topped with a little bruschetta. You can add whatever ingredients you normally like to add to your eggs. Chopped mushrooms, bacon bits, ham, onion….go wild!
Carefully pour the egg mixture into the pepper halves, almost to the top of the pepper. This is why it is important that you do not puncture the peppers…you don't want your batter to run out all over the baking dish. You can then top the peppers with shredded cheese, breadcrumbs, sliced tomatoes, salsa…again, whatever you prefer with your eggs.  Place the tray into a 350º pre-heated oven. Bake for approximately 30 minutes, or until the egg batter has set firmly in the peppers. Serve immediately.
*Note – if you add liquid to your egg mixture, say milk or water, or a liquify salsa mixture, you will need to add additional baking time for the egg batter to settle. Keep checking on the peppers and eggs, just to make sure that they don't burn.