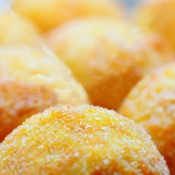 This past weekend, I was given a very special and unique opportunity that favored the 'good' side of karma. You'll recall a few posts back, when I chatted with nutritionist Dana Gollotto, who prepares the pre-game meals for the Philadelphia Phillies. It's moments like this – being able to sit and chat with others who share the same passion as mine about food – that make writing my blog so gratifying. This past weekend, however, Dana raised the gratification bar to a whole new level when she asked me to prepare an Italian dish, using one of my own recipes, to be presented to THE PHILADELPHIA PHILLIES!
Growing up as a life-long Phillies fan, I'm sure you could imagine how much of an honor this request was for me. Once getting past the initial excitement, reality set in. What in the world does one make for a professional sports team? Based on Dana's suggestion of focusing on a dish high in fruits or veggies and/or lean meats and whole grains, I decided to put my recent love for risotto to the test and make a healthy version of arancini rice balls.
Traditionally, arancini rice balls are made with chilled risotto, shaped into balls (often stuffed with meats or cheese), then breaded and fried. To stay on the healthier side, I chose to use whole grain brown rice in place of arborio rice, then using a wheat bread crumb mixture for the coating, and then baking instead of frying. For additional flavor, I went with the classic combination of asparagus, lemon zest and lemon juice. For my test round, I used all brown rice. Because the brown rice does not release nearly as much starch as traditional arborio rice would, the process of making the risotto took twice as long. The rice simply would not break down and absorb the liquid. This also made for a dry taste and texture. Not bad, but not what I was shooting for.
When it was officially  'game time', I decided to go with a 2/1 ratio of brown rice and arborio rice, using enough arborio to create the much needed creamy and sticky texture to hold the arancini rice balls together. This round was much better and made for the exact texture I was hoping for!
Although I was not allowed to deliver and present the arancini rice balls to the team personally – they are a professional sports team and understandably can not allow just anyone to enter their club house – Dana could not have been more grateful for the time that I spent making the dish. She also graciously passed along a bunch of recipe cards that I made up from my recent blog posts. After patiently waiting to hear what the players thought of my dish, Dana got in touch with me and said it perfectly….." A huge hit!!!!!!!!!!!!!!!!!!!!!!!  Everyone loved it."
Even as a kid, I knew that my chances of ever making it to the major league was one in a million. But as far as my passion for food goes, I definitely knocked this one out of the park.
WHOLE GRAIN BAKED ARANCINI RICE BALLS
Makes about 30 balls
1 bunch asparagus spears, tough ends cut off
9 cups chicken stock
3 tablespoons unsalted butter, divided
1-1/2 tablespoon olive oil
1 small yellow onion, finely chopped
2 cups short grain brown rice
1 cup arborio rice
3/4 cup dry white wine
3/4 cup grated Parmigiano-Reggiano cheese
zest and juice of 1 lemon
2 cups wheat bread crumbs
1 cup corn meal
3 large eggs
2 tbspn milk
salt and pepper to taste
Step 1: Cooking the Asparagus
In a large pot, bring enough water to cover asparagus stems to a boil. Add asparagus to boiling water for 5 minutes until crisp tender, remove from water and immediately place cooked stems into a bowl of ice water to shock the stems. When cooled, remove fro ice water, pat dry, chop into small pieces and set aside.
Step 2: Cooking the Risotto
In a medium pot, bring the stock to a simmer. Reduce heat to lowest setting and keep warm.
In a deep skillet or pot, heat 1-1/2 tablespoons butter and oil over medium heat. Add onion and sauté until softened, 2 minutes. Add rice and stir to coat. Add wine. Cook, stirring, until the wine evaporates. Add stock 1 cup at a time, stirring until nearly all of the liquid is absorbed before adding the next cup. Continue until the rice is tender but not mushy. When almost finished, stir in the chopped asparagus, adding stock as needed and stirring continuously. Remove pan from the heat. Stir in remaining butter, cheese, lemon juice and lemon zest. Place cooked risotto into a covered bowl and refrigerate overnight.
Step 3: Preparing the Arancini Rice Balls 
Remove chilled risotto from the refrigerator. Scoop up about 1-2 tbspn of cold risotto and gently roll into a ball in the palm of your hands. Place the rice balls onto a baking sheet and refrigerate for about 1 hour to let the rice balls harden up again.
Preheat oven to 350˚. In one bowl, mix the breadcrumbs, corn meal, salt and pepper. In another bowl, whisk together the eggs and milk. Remove rice balls from the refrigerator. Roll the rice balls into the breadcrumb mixture, then dip into the egg mixture, then roll into the breadcrumbs again. The double coating of breadcrumbs makes for an extra crispy coating. Place the rice balls on a baking sheet. Because you are baking instead of deep frying, you want to generously coat the rice balls with cooking spray to keep them from drying out. Place the baking sheets into the oven for about 30 minutes, until lightly golden and crispy. Serve immediately.
Image courtesy/istock.com © CactuSoup