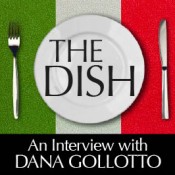 When you are born and raised in Philadelphia, there are two passions which quickly become part of your life: food and sports. Dana Gollotto, a fellow South Philly native who grew up surrounded by traditional Italian American food both at home and at her family's deli and catering business, has been fortunate enough to combine both passions into a career. Dana is the chef and dietitian who prepares meals for the Philadelphia Phillies. She is also the dietitian for the Haddonfield school district during the winter season. I recently had the opportunity to catch up with Dana and chat about her exciting and interesting job schedule and duties.
You grew up in a South Philadelphia family that owned a very successful catering and deli business. How hard was it for you to step into the roll of a dietitian when you come from a history of traditional hearty Italian American dishes?
Well as you know I was born into the food business in South Philadelphia. My Dad, Michael Siciliano, owned the Deli Garden and Garden Caterers.  I have been cooking since I was 12 years old.  When I was 17 I knew I wanted to study to become a chef so I moved to Florida to study at Johnson and Wales University.  About 6 months into my studies I had one basic nutrition class where I fell in love.  I knew immediately I wanted to combine my passions for food and nutrition and make that my business.
I grew up eating Italian foods that as we all know can be very unhealthy but I have adapted new versions of my favorite Italian classics and now can feel comfortable feeding these healthier versions to my family.
You work not only as a personal dietitian, but also as a dietitian for the Haddonfield school district during the winter season, and for the Philadelphia Phillies during the summer season! What is the main difference between working privately, working for a school and working for a professional sports team?
Really there isn't much difference at all because my main goals remain the same in each line of business and that is to create tasteful healthy meals everyone can enjoy. I strive to craft unique flavor profiles that even the finickiest palate will get pleasure from. In all of the lines of business I promote farm-to-table fare and the use of seasonal, local ingredients.
Tell us a little bit about your duties with the Phillies and how they benefit from your culinary and nutrition background.
I prepare the Phillies Pre-games meals, snacks and baked goods.  Nutrition is undoubtedly an enormous  part of sports performance.  Athletes must recognize food as a source of fuel for them.  As a team, nutrition must be  a priority throughout the clubhouse, airplane, and on the road.  The pregame meals need to be low in fat and high in complex nutrient rich carbs for energy but be easily digestible.  Different players also have unique nutritional requirements; for example a first baseman and a bullpen pitcher will have different needs.  This season I have also introduced juicing as a part of their daily routine.  Fresh local produce is used to create many unique juice blends to provide tons of vitamins and minerals to the players.
Do you approach certain times of the season differently? Do you plan meals differently for day games as opposed to evening games?
The season is treated consistently with an emphasis on health all year long.  It is also suggested that players be mindful of their nutritional habits during the off season.  Pre-game meals should be comprised of low fat and healthy whole grain carbs that are easily digestible.  Post game meals consists of larger portions of protein, healthy carbs and veggies.  Healthy high protein snacks are available all day long as well as fresh fruit.

We all know that many professional athletes can be superstitious when it comes to their daily routines. Do you get special requests from the team (or individuals players) depending on the day of the game or the team that they are playing?
Currently I have not had anything really crazy but I will say in the past I have had some nutty requests.
Have you ever worked as a dietitian for any other professional sports teams?
Not teams but local sports athletes, yes!  I have cooked for members of the Philadelphia Flyers, Eagles, Hollywood Celebrities, Politicians, and even President Bill Clinton.
Has working for the Phillies given you any other unique opportunities?
Yes it has!  I have been able to become a personal chef to many local athletes and their families.  I have also created a recipe that has taken off tremendously and that is my protein balls.  I began making them specifically for the Phillies but that turned into many personal clients simply by word of mouth.  These protein balls are used as a healthy snack and for recovery after workouts.

Right: Dana Gollotto, Chef and nutritionist serving the Philadelphia Phillies, displays her personal healthy creation, chocolate protein balls. They have since become a big hit with the players for recovery after workouts.
Let's switch over to your duties as a school dietitian. What are some of the major improvements that have been made in regards to nutrition for the students as of late? What are some other improvements that you would like to see happen in the schools?
School meals are changing drastically.  Major improvements have already been made such as allowing only fat free flavored milks and low fat white milk, we have increased the amount of whole grains provided daily and have nearly doubled the amounts of fruits and veggie provided daily.  The new regulations for the 2012-2013 school year are really strict, they are clearly written to reduce the child obesity epidemic but will be very difficult to achieve.  I am up for the challenge though.  We are always looking at how we can provide nutritious meals to children that they will actually eat!  You have to get creative, we combine healthy proteins and veggies in places kids may never even recognize!
Do you enjoy cooking at home? What are some typical meals that you like to prepare for your family? Do you keep traditional dishes in your routine?
I cook from the time I wake up until the time I hit the pillow at night.  I do prepare many traditional Italian dishes such as "macaroni and meatballs"  as we call it in my house but I do choose healthier options like whole grain pasta and chicken meatballs.  One tradition that I keep as far as mealtime goes is that I always serve fresh fruits and vegetables with the meal. Regardless of what we are having there is always three to four fresh fruit and veggie options.  I also enjoy cooking Spanish and Asian Foods because I find them to have huge flavors and very little fat.
The web now offers so many options for foodies to check out new recipes and new ideas. Are there any specific websites that you regularly visit, or that you could recommend to the Cucina Domenico readers?
My favorite websites are :
superkidsnutrition.com
Eatright.org
Foodtv.com
Dana, thank you so much for visiting with us and sharing a bit about your fun and interesting career!
Thanks, Dominic!  If anyone would like to join me on facebook to see some pictures of the meals I prepare or order the protein balls feel free to visit me at  http://www.facebook.com/#!/DanasGourmetCreations
Below are some examples of Dana's beautifully creative dishes. From top left to bottom right, they are:
A. Tilapia with mango salsa , spinach and garlic, quinoa pilaf;
B. Asian chicken salad;
C. Cilantro lime chicken salad;
D. Greek yogurt parfait;
E. Sage and parmesan roasted pork loin, zucchini and tomatoes, brown rice with toasted pine nuts;
F. Chef salad with fresh pomegranate;
G. Shrimp salad with mango
H. Whole grain penne pasta with turkey bolognese sauce, baby carrots and zucchini sautee; and
I. Watermelon and cucumber salad