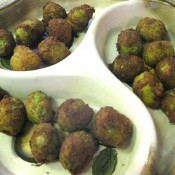 I always enjoy finding items on a menu that were once considered everyday survival food to our ancestors. Polenta, for example, was once nothing more than peasant food, because it was affordable and could be made in abundance. Nowadays, you can find polenta offered as a special appetizer at a fancy Italian restaurant.
Another food item from yesteryear that is making its way into the hearts of modern food lovers is stuffed olives. Now, by no means were stuffed olives considered peasant food. They have always been a delicacy that were enjoyed during the holidays. For some older generations, the labor of slicing and stuffing has lost its luster, but they continue with the tradition.  My Aunt Marie still makes them for special occasions, its just that after years of precisely slicing the olives, the thrill is gone. On the flip side, to this day my Mom still raves about the stuffed olives that my Aunt Tina made for a New Years Eve party back in 1970! I always knew that someday I would like to give this recipe a try. After recently enjoying stuffed olives at Le Virtu in South Philadelphia (one of their signature appetizers), I knew it was time to step up and give it a go and to continue with this delicious tradition.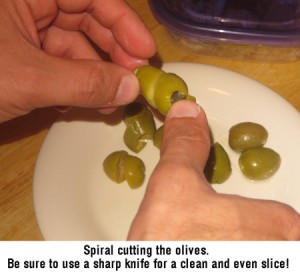 The biggest trick to preparing the olives is using a sharp paring knife. You want to spiral cut the olives from top to bottom in one even slice, as if you were peeling an apple. If your knife is dull, you risk breaking the olive. So be sure that your knife is nice and sharp to ensure a clean and easy slice. You also want to use large green pitted olives. The larger, the better  because it gives you more flexibility to slice and more room for stuffing. Once all of your olives are sliced, it's time to fill them with your prepared stuffing. Traditional stuffings for olives usually consist of a meat filling, such as sausage, pork or lamb. You can also stuff the olives with feta, bleu or provolone cheese and serve them as is. Of course, you can get as creative or exotic as you want! For this recipe, I am using a crab meat filling. Since this was the first time that I made these, I made sure to have enough filling mixture…which turned out to be too much filling anyway. If you decide to use this filling, I suggest still making the amount listed below and putting the rest to use as a stuffing in chicken, tilapia or beefsteak tomatoes.
STUFFED OLIVES
1 8oz jar large green pitted olives
1 cup breadcrumbs
2 large eggs, beaten
2 cups vegetable oil
Filling
1/4 cup chopped onions
1/4 cup chopped celery
2 tbsp. butter
2 tbsp. white wine
Juice of 1 lemon
8 oz. canned crabmeat
1/3 cup seasoned breadcrumbs
Heat butter in a pan until melted. Add onions and celery; heat until soft. Add crab meat, wine and lemon juice; stir. Add 1/3 cup breadcrumbs; stir. When warmed, remove from heat, place crab meat filling in a bowl; set aside.
Using a sharp paring knife, spiral cut the olives in one clean cut from top to bottom. To stuff the olives, simply grab about a half teaspoon of filling, shape it into a ball, and wrap a sliced olive around it. You'll then be able to judge exactly how much filling is required to stuff an olive. Once all of the olives are sliced, you 'll want to bread them by dipping them in the beaten eggs and rolling them in 1 cup of breadcrumbs.
Next you'll want to heat up the vegetable oil in a small sauce pan. Once heated, you'll want to carefully place the olives into the oil, about 3 or 4 olives at a time. Let them cook for about a minute, or until the breadcrumbs are browned. Carefully remove with a slotted spoon and let dry on a paper towel covered dish. You can serve them either warm or at room temperature!