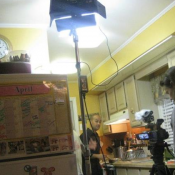 One of the genuine pleasures of writing a blog is making contacts with others who share a similar passion. I have been fortunate enough to make several meaningful relationships over the years with other bloggers and foodies (all of whom you can find links to here at Cucina Domenico). Recently, my friend Dan Putkowski, author of several books including Bonk's Bar and An Island Away, contacted me about capturing a little of what I do in the kitchen on video. Dan also has his own successful blog, The Bent Page, which is comprised of many great photos and videos of travel, literature, food and product review. Dan's motto is "It's a small world, but big enough for me." His blog is a perfect representation of that!
Just this past weekend, Dan and his wife Heather (who is a good friend of mine for many years), visited our house and filmed a very nice video of myself in the kitchen, preparing a typical Sunday afternoon Italian-American dinner. Not only was the video a blast to make, but it was also yet another excuse to sit around the table on a Sunday afternoon with good friends.
I am very proud and honored to be featured on one of Dan's videos. I hope you enjoy it. And please be sure to check out Dan's blog, The Bent Page. You will definitely have a good time there!