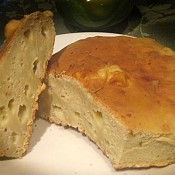 Of all the recipes that I have featured on my blog, this is one that I am most excited to share with you. Not only is it another fine example of an Italian delicacy that is enjoyed during the Easter season, it is also a recipe that I have been searching out for years! A few years back we were visiting our friend at her parents' house. Her mom, who is from Italy, shared with us an Easter cheese bread that she made. She called it 'pastiche' (pronounced pas-teech). It was a savory bread that had cheese baked into the texture, and it was one of the most delicious breads I've ever tasted. When I asked if she would share the recipe, she looked at me, smirked and said in her slight broken English, "nah, you can't make this." As it turns out, this recipe was a special recipe that came from her home town, and it was something that I figured was just guarded by those who learned how to make it over the years. Honestly, it was like a punch to the gut being told 'no'.
Never being one that is told that I can't do something, I spent the next few years searching out the recipe, but with no luck. There were no recipes online for 'pastiche', and the most results I would find for a search on Italian cheese bread was for Domino's bread sticks. Epic fail.
But finally, this year I found a lead. Apparently, our neighbors' friends, who are also from Italy, make a bread this time of year that they call pastiche. I also found out that they are from Abruzzi. My friend's parents are from Abruzzi. I begin to think "hey, this is all starting to add up!" I searched out Abruzzi cheese bread and..BINGO! I finally found what I was looking for.
Crescia al formaggio is a traditional savory Umbrian bread that is made during Easter time with various cheeses, specifically grated Pecorino Romano and/or Parmigiano, along with chunks of a semi-sharp-or sharp cheese (such as provolone or fontina) folded into the dough. Although quite flavorful on its own, it can also be served  during any meal along with eggs, prosciutto and other Italian meats, or even with peppers.
To say that I was happy when I found this recipe would be an understatement. As soon as I read the description and saw a photo online, I knew that I had finally found what I was looking for. And, to my my surprise, there were quite a few variations that I found of this bread. Some were honestly more difficult than others, incorporating home-made cheeses. I now understand why my friend's mom doubted my skills. But I also found some other less complicated versions. One that specifically intrigued me was at Italian Food Forever. I gave the recipe a try, and it tastes exactly how I remembered. Pure heaven. I reached out to Deborah Mele of the website, and she graciously agreed to allow me to share her recipe here. Thank you very much, Deborah!
But what about the mystery of 'pastiche'?
Of all the recipes that I found, none of them refer to it as pastiche. I've tried various searches over the years on the word (not eve sure if I were spelling it correctly). Nada. I have also since found out that our neighbors friends do not use flour in their recipe. Only eggs and home made cheese. So while theirs may not be the same 'pastiche' as I've had before, it was enough to lead me to a solution. But finally, after a little deep digging, I did come across one possible answer. According to Wikipedia, pastiche (which aslo means hodge -podge) is the French version of the Greco-Roman dish pastitsio or pasticcio, a kind of pie made of many different ingredients. I guess this is the Easter bread version of the Gravy vs. Sauce argument.
Whatever you choose to call it, definitely add this recipe to your Easter menu.
Buona Pasqua!
CRESCIA – UMBRIAN CHEESE BREAD
Courtesy of Deborah Mele at Italian Food Forever
Yield: 1 Large Loaf
Prep Time: 2 1/2 hrs
Cook Time: 40 mins
A cheese packed bread traditional to Umbria often served with cured meats.
Ingredients:
1 3/4 Cup Warm Water
1 Tablespoon Active Dry Yeast
6 Extra Large Eggs
1/2 Cup Olive Oil
1 Tablespoon Coarse Black Pepper
1 Tablespoon Sea Salt
2 Cups Grated Pecorino Cheese
8 Cups All-purpose Flour (Or Tipo 0)
8 Ounces Young Pecorino Cheese Cut Into 1/2 Inch Dice
Directions:
(Note – this recipe calls for a soufflé dish, but I used a spring form pan and it worked fine).
Spray a large soufflé dish with oil, and using a strip of parchment paper, line the top of the dish adding an additional 2 to 3 inches of height.
Add the yeast to the water in a bowl and mix, then let sit 5 minutes until bubbly.
In another bowl, beat first the 6 eggs, then add the olive oil, salt, pepper, and grated cheese.
Add the yeast mixture to the egg mixture and stir until combined.
Add half the flour and stir, and then continue to add flour one cup at a time until you create a firm dough that is not too sticky.
Dump the dough onto a lightly floured surface, and knead by hand, folding in the diced cheese as you work the dough.
Knead for about 5 minutes or until the cheese has been incorporated into the dough, and the dough is smooth.
Lightly oil a large bowl with olive oil and let the dough rise until doubled, covered, in a warm spot.
Punch down the dough and form it into a ball and place it into the prepared soufflé dish.
Preheat oven to 375 degrees F.
Cover the bread with a kitchen towel and let it rise for about 30 minutes.
Bake the bread for about 35 to 40 minutes, or until it reaches an internal temperature of 190 degrees F.
Let the bread cool for 10 minutes, remove it from the baking dish and let cool to room temperature before cutting into it.
Adapted From Mary Ann Esposito