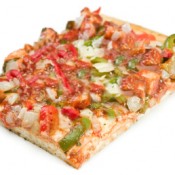 A few weeks back, Una Mamma Italiana and I hosted our first Food Challenge of 2012. We each brought to the table a dish that included a spirit/liqueur as an ingredient (Una Mamma going with Sambuca Shrimp, and I going with Tequila Lime Chicken Bites). We asked you to let us know which ingredient – tequila or sambuca – you would prefer to cook with. Now that the voting polls have closed on both of our sites, the results are in and it appears that both spirits are preferred almost equally! Regardless of which spirit, if any, you are partial to, I encourage you to try both of our recipes…you won't be disappointed! You can click here to view both recipes.
And now I would like to take this time to introduce you to a friend of mine who will also be contributing occasionally to Cucina Domenico. Joe Sammartino is a certified personal trainer and a nutrition consultant, and is also the owner of Blue Steel Fitness. Joe takes pride in focusing on healthy attitude and lifestyle, and training his clients to better understand proper fitness and nutrition. Joe will be checking in every few weeks to share nutritional recipes with us! You can click here for Joe's profile and special promotions that are offered! Also, be sure to visit his own web site, www.bluesteelfitness.com.  
This week, Joe is sharing with us a recipe for home made chicken pizza. Take it away, Joe!
CHICKEN PIZZA
Courtesy of Joe Sammartino 
Here is a quick homemade pizza that people can make in order to eat what they like but with fresh ingredients instead of getting it from a fast service pizza joint. This pizza is great for anyone who is on a healthy nutrition plan because it has a good amount of protein, veggies, chicken, and is on a whole wheat pita bread. Plus it is homemade…can't get any better.
I have tried it and it is good! Give it a try.
Ingredients:
6 oz of cooked diced chicken breast
2 Tbsp of a good spaghetti sauce. ( you can use more if you desier but it is about the chicken and the veggies more than the sauce)
1/3 cup of low fat mozzarella cheese( shredded )
1 whole wheat pita bread
1/4 cup sliced mushrooms
1/4 cup diced green pepper
1/4 cup diced red pepper
1/4 cup chopped onions
salt and pepper to taste
Directions:
Spread spaghetti sauce on one side of pita bread.
Top then with cooked chicken and veggies.
Sprinkle with mozzarella cheese, salt, and pepper.
Bake in the oven at 375 degrees  for 15 minutes or until pita bread is crusty.
** A Tip: When the pizza is nearly done, turn it to broil and watch it carefully as the cheese turns to a golden brown just like the real thing.
Nutrition Facts per serving:
• Cal 410
• protein 44g
• carbs 36g
• fat 10g