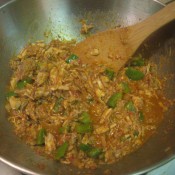 "The heavenly aroma still hung in the house. But it was gone, all gone! No turkey! No turkey sandwiches! No turkey salad! No turkey gravy! Turkey Hash! Turkey a la King! Or gallons of turkey soup! Gone, ALL GONE! "
Unlike the Old Man from A Christmas Story, I'm sure that most of you did not have to deal with the unexpected loss of the holiday turkey to a bunch of wild bloodhounds. In fact, you probably had more leftover Thanksgiving turkey than you knew what to do with. This recipe will help put a decent amount of the leftover bird to deliciously good use in less than 20 minutes! It's particularly good for the leftover legs and wings…the parts that make for perfect presentation but rarely get eaten (at least at my family's Thanksgiving dinner).
And yes, this recipe would also work well with leftover chicken.
QUICK TURKEY SCALLOPINI
1 tbspn olive oil
1 small onion, chopped
1 clove garlic, minced
1 green bell pepper, chopped
2 cups shredded turkey (if you have a food processor, 3-4 quick pulses will do the job quickly)
1 cup spaghetti sauce*
salt and pepper to taste
1 tspn Italian seasoning
splash of red wine

*Disclaimer – I would have normally said red gravy, but I didn't want to confuse anyone thinking that I meant turkey gravy (the OTHER gravy).
Heat oil in a pan over medium heat. Add onions, let cook for 30 seconds, add garlic; stir. Add chopped peppers, stir. Let cook until peppers are crisp-tender. Add the shredded turkey and the sauce, stir. Add salt, pepper and Italian seasoning, stir. Add splash of red wine, stir. Lower heat, simmer until warmed throughout.
Serve over rice, in a crispy roll, along side of polenta or in fajita shell topped with shredded cheese!