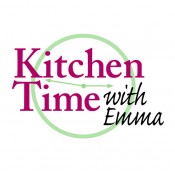 This week, I'm very happy  to welcome back my good friend, Emma, who shares with us a delicious gluten-free version of  the classic Lemon Meringue Pie. So can't wait to dig into this one!
Enjoy,
Dom
LEMON MERINGUE PIE
By Emma Caperelli Loerky
Since Labor Day weekend is almost here, I thought it would be a good time to share one of my family's favorite gluten-free recipes – Lemon Meringue Pie. Whether you are making burgers, ribs, chicken, or even fish on the grill, the cool tartness of the lemon custard combined with the sweet, fluffy meringue and buttery crust makes this pie the perfect ending to your meal, especially on a late summer day.
This is something that I make throughout the year, not only because my family loves it so much, but also because lemons are always in season. I'm not sure how I've made this recipe so many times yet have managed to neglect using Meyer lemons (because how awesome would that be?!). However, I never think twice about making it with just plain old lemons simply because it is always delicious, and neither should you.
Gluten-Free Pie Crust
Adapted from King Arthur Flour
Ingredients:
1 1/4 cups King Arthur Flour Gluten-Free Multi-Purpose Flour
1 tbs sugar
1/2 tsp xanthan gum
1/2 tsp salt
6 tbs cold butter
1 large egg
2 tsp lemon juice or vinegar
Directions:
Preheat oven to 375 degrees.
Whisk together the flour, sugar, xanthan gum, and salt.
Cut the cold butter into pats, then work the pats into the flour mixture until it's crumbly, with some larger, pea-sized chunks of butter remaining.
Whisk the egg and vinegar or lemon juice together until very foamy. Mix into the dry ingredients. Stir until the mixture holds together, adding 1 to 3 additional tablespoons of cold water if necessary.
Shape into a ball and chill for an hour, or up to overnight.
Allow the dough to rest at room temperature for 10 to 15 minutes before rolling.
Roll the dough out between two pieces of plastic wrap and invert into a pie pan.
Wrap loosely with plastic wrap and place the unbaked pie crust in the refrigerator for at least an hour before baking.
Cut a piece of parchment paper big enough to fit on the bottom of the pie crust. Allow the parchment to extend a little past the sides of the crust (for easy removal). Place pie weights (or uncooked dry beans) on top of the parchment paper, and bake for 25 minutes. Remove the parchment and the weights, and bake for an additional 10 to 15 minutes, or until the crust is a light golden brown. Remove crust from oven and let cool completely.
Lemon Custard
From the magazine, Delight Gluten-Free
Ingredients:
Zest of 4 lemons
3/4 cup lemon juice, strained
3/4 cup sugar
1/2 cup unsalted butter
8 egg yolks
Directions:
Combine lemon zest, lemon juice, sugar, and butter in a saucepan and bring to a boil over medium heat.
Whisk the egg yolks in a bowl until liquid.
Strain the lemon juice/sugar mixture to eliminate the zest, and beat one-quarter of the boiling liquid into the egg yolks.
Over low heat, return the remaining lemon juice liquid to a boil.
Whisk the egg yolk mixture into the boiling liquid and continue whisking until it thickens slightly, about 2 minutes. It may come to a slight simmer, but do not allow the custard to boil.
Pour the lemon into a bowl, press plastic wrap against the surface to prevent a skin from forming and chill for about an hour, or until completely cool.
Pour the chilled lemon custard into the crust.
Meringue
From the magazine, Delight Gluten-Free
Ingredients:
3/4 cup egg whites
Pinch of salt
1 1/2 cups sugar
Directions:
Combine egg whites, salt, and sugar in a medium sized bowl and place over simmering water.
Heat, beating with a whisk, until egg whites are hot (it should feel like hot tap water on your finger) and all of the sugar is dissolved.
Remove from heat to a mixer. Whisk on medium speed until cold and stiff.
Pipe meringue on top of lemon custard. Use a pastry torch to caramelize or put under the broiler for 2-3 minutes until lightly golden brown. Note: I do not have a pastry torch so I just used my oven which works fine. Just be sure to keep a close eye on the pie, as it will burn easily. Two minutes was just enough time in my oven.