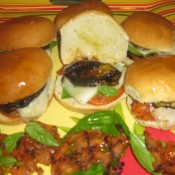 I came across this modern and fresh version of the classic eggplant parm sandwich a little over a year ago when I started watching Sam the Cooking Guy. Like myself, Sam does not consider himself a chef, but rather the guy next door who likes to cook and have fun while experimenting in the kitchen. His cooking show is also both entertaining and educational, which is a big plus, considering all of the other trendy fly-by-night cooking shows these days.
I'd consider myself an eggplant parm junkie, and when I discovered this new twist on one of my favorite dishes, I was blown away (you may remember my suggesting Sam's web page a while back through my Facebook group page). Unlike traditional eggplant, which is breaded and deep fried, then often left swimming in a heap of sauce and cheese, this recipe uses the key ingredients heated together on the grill. You're simply slicing eggplants and tomatoes, seasoning them with olive oil, salt and pepper, and grilling them up. You're then toasting up some rolls (which essentially replaces the breadcrumbs), and you're stacking the grilled eggplant and tomato on the roll with fresh basil, some shredded parmesan cheese and a slice of mozzarella cheese.
Grilling the tomato actually softens it up, and when added to the sandwich, it almost becomes its own sauce. Everything then comes together in each glorious, gooey bite. Simple, fresh and delicious! This sandwich has become a go-to staple in the summertime, and could very well be one of my all time favorite sandwiches. I follow Sam's recipe step-by-step, but occasionally serve it on slider rolls as an appetizer (as pictured). I suggest you give this one a try, and definitely check out Sam the Cooking Guy (you can find the original link to  Sam's recipe by clicking here).
Grilled Eggplant Parmesan Sandwiches
Courtesy of Sam the Cooking Guy
• 1 large globe eggplant – or 2 smaller ones
• 3 large tomatoes
• 4 slices mozzerella cheese
• 4 crusty Italian type rolls, split in half
• 1/3 cup shredded parmesan cheese
• 1 bunch fresh basil
• Olive oil
• Kosher salt
• Fresh Ground Pepper
Cut eggplant & tomatoes to get eight 1/4 inch slices of each
Brush eggplant with olive oil and season with salt & pepper
Grill eggplant on both sides until soft and marked with grill lines
Do the same with tomatoes, but for about half the eggplant time
Heat broiler, and toast buns lightly
Remove from oven and on top of the bottom roll place, in this order…2 slices of eggplant, 2 slices of tomato, 3 large basil leaves, mozzerella cheese and finally about 2 tablespoons of parmesan
Place openface under broiler to melt cheese and brown the top – but don't go far you don't want them to burn.
Place tops on and slice in half – yummm