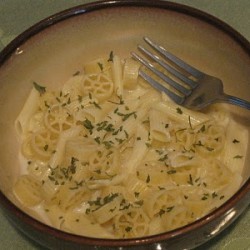 This week we're going back to the basics with a simple pasta dish that is my daughter Julianna's favorite meal. It's a simple dish that's very easy to make, and works great for an easy weekday meal. It's also a nice alternative to alfredo sauce – not as heavy, and with more of a garlic kick.
Since Julianna asked that I share this recipe with you, I thought it would be best that she tells you all the great things about this dish!
So where did you learn about this pasta dish?
My  kindergarten aftercare teacher told me and my friend Maggie about it. But now I am in first grade.
What kind of pasta do you think works best with the sauce?
The bowtie  pasta that my kindergarten teacher used. I think the wheel pasta will work too.
What do you like about the sauce?
The cream and the butter. Yummy! … Continue Reading