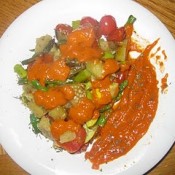 I had the urge a few nights ago to make something fun and quick for dinner, using a mix of fresh vegetables. I came up with broiled veggies with a roasted red pepper sauce. My first thought was to grill the veggies – which would have worked great – but I was also juggling 'daddy duties' this night, so 20 minutes under the broiler spared me plenty of free time to keep the kids occupied. I went with my grilling/broiling standards: eggplant, zucchini, squash, asparagus and grape tomatoes (would have thrown in some fennel too, if I had some on hand). I did some research on red pepper sauce and found a couple of options: mixed with balsamic, olive oil, garlic and seasonings for a thinner sauce; or mixing with light sour cream and lemon zest for a creamier sauce. I decided on creamier, but instead of sour cream, I went healthy by using fresh guacamole. Unbelievably good! When I say 'fresh guacamole,' I mean no jarred guacamole dip (the kind that you find sitting next to the salsa and nacho cheese dip in front of the potato chip rack). Read the ingredients on on the jarred stuff and you'll know why. If you have the time and the recipe to make a fresh guacamole dip, have at it (and please share the recipe with me!). If not, you can find good, all natural guacamole dips in the produce section of your grocery store. I recommend Wholly Guacamole.
This dish is beneficial in so many ways: it's healthy, nutritious and tasty; it's a quick fix for a weeknight (the most time you'll spend is with chopping up the veggies); and it's very versatile. It would serve well on it's own, on top of pasta, rice or chicken, or would work as a side dish at your next grill-out. For an extra kick, try toasting up some garlic bread and use the veggies and sauce as a bruschetta-like topper!
BROILED/ROASTED VEGGIES WITH ROASTED RED PEPPER SAUCE

1 medium eggplant, skin removed, cut up into cubes
1 zucchini, cut up into cubes
1 yellow squash, cut up into cubes
1 bunch asparagus, cut up
1/2 container grape tomatoes (whole or cut in half)
1 clove garlic, minced
olive oil
salt and fresh ground pepper
1 12-oz jar roasted red peppers, drained
1/3 cup fresh guacamole (not jarred guacamole dip)
Place vegetables and garlic into a large mixing bowl. Add a few nice glugs of olive oil, enough to coat all veggies but not so much that they're swimming in oil. Add some salt and fresh ground pepper. Mix well.
If broiling – pour veggie mix into a baking dish, sit directly under broiler at 450º for 15-20 minutes, stirring once, until slightly charred and tomatoes start to burst.
If grilling – place veggie mix on a sprayed vegetable grill tray. Grill veggies on direct heat until slightly charred and tomatoes start to burst.
*Note – broiling will allow veggies to retain most of it's juices and the added olive oil, while grilling will allow the veggies to become more charred.
For the sauce – drain peppers of all jarred water. Place peppers in a blender and puree. Add 1/3 cup guacamole and blend until sauce is creamy. Spoon/drizzle a bit of sauce over each serving of vegetables and add additional sauce on the side of the dish for dipping.
Mangiare bene!